It is very difficult for children to understand that appearance is not necessarily reality. Developmentally, it is a complex concept that comes with age. And, adding to that, experience, which children lack, lends itself to understanding how and why some things are not as they seem. Thus, young children find it difficult to "not judge a book by its cover." In part, this is why children's films often take on the theme of appearance vs. reality; children's film, much like parables and folktales, attempt to teach children about the world, themselves, and life. A children's film possessing the theme of appearance vs. reality will communicate to children that one should not make a surface-level judgment, that one must get to know something/someone before making a decision, and why making a judgment on appearance alone may be incorrect or harmful. (Kate Bellmore, The Reel Club)
Reel.
Remember J.R. and Bobby Ewing? They were characters in the very popular TV series, Dallas, shown from 1978 to 1991 in the U.S. and 95 other countries all over the world.
The Ewings, Bobby and J.R., are still alive and are continuing their feud into 2012, 21 years after the original show ended. The remake in its pilot episode which aired June 13 and drew 6.86 million viewers nationwide on TNT cable, showed Bobby Ewing overriding objection of some members of the family as he announced to everyone that he was not in favor of drilling oil in their backyard; instead he has decided to sell the 347-acre Southfork Ranch.
Reality.
There is a Southfork Ranch in Parker, Texas .
Parker is still known for it most famous tourist attraction
Internationally recognized for the filming location of the long-running television series "Dallas." Southfork operates today as a tourist attraction and an event and conference center. It is located just 20 miles north of Downtown Dallas and is open daily, year 'round for tours, parties and special events.
Another reality is that since Dallas aired on the small screen, visitors to Southfork Ranch tripled from 100 to 300 a day and many fans have asked if Southfork Ranch is really for sale.
Why would fans think that Southfork Ranch is for sale? Bobby Ewing is only a character in a soap opera.
I have no answer as to what these fans were thinking when they went and asked if Southfork Ranch was for sale. Has the line between fantasy and reality been erased in the psyche of these fans?
Was Bobby Ewing so forceful and credible that his offer to sell leapt off the screen? I can only see that reel may seem real in the process especially if the mind has some wishful thought for something related to what one watches.






Kim and Xian Show- The Reel and Reality of it.
CTO- Xian Lim endorsing Myra Vitawhite Lotion
In following the power and the hottest loveteam in Philippine Showbiz today , the wishful thinking and the ugly emotions of a KimXi fan are just laying beneath the surface of his mind and heart with an ugly emotion such as jealousy rearing its ugly head in the blink of an eye.
The KimXi world turned upside down when word was out of a commercial showing
Xian frolicking in bed, at the beach with another woman other than Kim. That it was a
job did not soften the sight of Xian tenderly looking, tenderly touching and tenderly kissing
the woman's shoulder. Gone was the resolve to keep work and non-work separate in
perceiving the other half of the KimXi loveteam. Cooler heads prevailed. and the
KimXi psyche was set aright. Question now is how will a KimXi fan survive a movie that
has Xian kissing his screen partner multiple times? The KimXi fan will just have to go
back to the following assurances from their fave duo.
CTO - KimXian interview for Ina, Kapatid Anak - a new teleserye with Maja
and Enchong.
In the tail-end of the interview (around 4:40 onwards), Xian was asked if the plot of Ina, Kapatid, Anak which includes a "mix and match" of the characters would affect him and Kim personally to which Xian demurred, saying, " ...siempre naman, parte po yon ng istorya...hindi naman maapektohan ang personal na buhay". Simply said, work is work, it won't affect our personal lives." To Xian there is a clear delineation between work and his ,taking it a bit further, love life. Trabaho lang walang personalan.
. A really good friendship blossomed after the soap, so
siyempre kasama siya sa
new beginning that I am enjoying right now. We're a team. We're always going to be working together, yung comfortability
namin
, our trust for each other,
dapat nandun yun
."
Xian Lim says he and Kim Chiu trust each other
4/20/2012 11:58 PM
CTO - I believe in you by Celine Dion and Il Divo
Xian , a fast rising multimedia star is building success upon success in his endorsements of products such as Mint Clothing, McDonald McFloat Variants, Promil, TechnoMarine Watch etc. and with his new record album also given away for the purchase of a certain amount of Mint items results in a lateral collaboration between Xian's endorsements that not only confirms Xian as the new It Guy in the industry but also increases revenue from both ends. Team KimXi should only bear in mind that any untoward reaction against any of his endorsements may jeopardize its sales, something that a KimXi fan does not wish to happen to Xian or Kim.
Apart from the financial considerations, there is also Xian, per se. In his interviews, he leans on his having been born under the sign of Cancer and is loyal and faithful to his beloved. Knowing Kim and her trust issues, Xian would be the last one to set back Kim several steps backwards now that she is slowly getting out of that syndrome.
CTO - Kim and Xian at Maja's Thanksgiving Party
His latest interview together with Kim at Balitang America where they thanked each other profusely for the gift of each other and Xian's " finally, finally, meron nang nakakaintindi sa akin" is a tell-all to the long-drawn wait for someone who understands who he is , where he is coming from and what he is up about; a woman, more than amazing and incomparable with the rest would be a hard one to toss out easily.
Xian's craving is for understanding; the word " finally " uttered from the heart stems not from a craving for beauty of face and figure for according to him, "everyone is beautiful" in the world he moves in. Not everyone can be just the right mix of beauty and inner beauty that reaches out to his own inner being, the part of him that is beyond the Xian that we see, the ever-smiling Greek god of a man who is free with his hugs and his attentive gaze. There is a Xian who can be quiet, looking "unreachable" and "standoffish" who is in fact shy and introverted that Kim has coaxed out of his shell and seeing each other, unmasked, they bonded.
CTO Kim and Xian Sporting the same hand signs.
In Kim's world before Xian, Kim was a sponge in a world where Gerald was a demigod who ruled her psyche, her whole being that looking at her, one could not imagine her without her alter-ego, Gerald. It was to this that the Kimerald fans gravitated and had their psychological clocks or their being fans were set to. In their heart of hearts there was no imagining a world without the Kimerald being together. Their being together is a constant to them; no change is conceivable. The change came 2010. To the Kimeralds, the life-changing event in 2010 never happened; to them Kim and Gerald are still together.
I believe emotionally-engaged fans ignore the distinction between fact and fiction, between reel and what is real and let their judgment be impaired allowing ugly emotions to come to the fore when what confronts them is contrary to what they hold dear or cling to something they wish for to be happening vis-a-vis what is actually happening.
This happened at the height of the Kimerald breakup. The Kimeralds could not accept the reality that the personal relationship is gone along with the separation as a loveteam. The Kimerald fans persist in retaining their own false reality driven by the great desire to preserve the status quo of the Kimerald personal lovelife even with evidence showing the contrary.
The Bea phase, the Sarah phase are ignored. There is only the Kimerald phase and even if they are not seen off-cam and even if Kim spends all her off-work hours with Xian, it is still Gerald who remains Kim's boyfriend in their thinking. They are existing in a time warp; how long can they stay in this false reality is anybody's guess.
CTO- Gerald Anderson and Kim Chiu in a Star Magic movie - Crazy Love
The Star Magic is celebrating its 20th anniversary with a movie that has Kim and Gerald return into the big
screen after a hiatus of two years.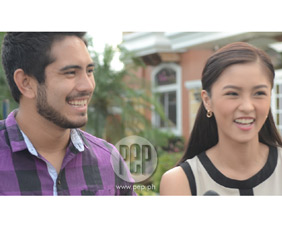 Gerald Anderson (left) visited a gay bar to prepare for his role as a macho dancer in Star Magic's upcoming movie tentatively titled
Crazy Love
. He is paired with former flame Kim Chiu (right).--Pep-5-28-12.
Kimerald fans continue to believe that Kim and Gerald are still together; this after a very public break-up witnessed by many at the 2010 Star Magic Ball between Gerald and Kim when Gerald escorted and left the Ball with Bea Alonzo instead of Kim Chiu.
There is a deliberate distortion of reality wherein the fans faced with an unacceptable reality staring them in the face refuse to accept such reality instead boost this new distorted reality with a warped perception of current events. There is no arguing with them. They just cannot be dissuaded even with Gerald himself claiming that he is still pursuing Sarah Geronimo or that Kim Chiu is already with Xian.
Gerald Anderson denies claims that he has already stopped pursuing Sarah Geronimo
6/27/2012 11:00 AM
"
Xian has met Kim's family from Cebu. Kim has met Xian's mom and grandmother. Xian said, no regular, ever gets introduced to his family. He said that's reserved only for someone "special" and then he looked at Kim and smiled. Kim smiled back."
http://www.balitangamerica.tv/filam-fans-go-crazy-over-xian-lim-kim-chiu-loveteam-2/
Gerald is anticipating a love scene with Kim in his Star Magic movie with him. Kim has kept her thoughts to herself. Kim is more reticent and her latest ASAP appearances, there is no small talk with Gerald; none of the warmth normally reserved for a love one is seen; she has instead Xian on her side; it is Xian who accompanies her back to her dressing room; Xian who stands beside her in a spiel; she is observed resisting repeated urgings from Piolo and Maja preferring instead to stand beside Piolo even hanging on to his arm. Kim is very discreet. Gerald is publicly saying he is courting Sarah; I can only think that Kim is mindful of what Sarah and her fans would say and perhaps of Xian as well.
Actors' lives can be so difficult; devoid of privacy they move under the watchful eye of fans reading their expressions, their demeanor; twitting their whereabouts, taking their pics and releasing them into social networks and yet the fans are also their indirect source of income and support. Fans are also a source of joy; the need for adulation and admiration runs deep in all of us and to actors, the fans provide a boundless source. Fans can also be a source of aggravation if they cannot anymore deal with the realities of the actors lives; if they even come to point to dictate whom they should be with in life and if this type fans are crossed they can turn from admiring fans to fearsome bashers and hopefully only virtual enemies.
CTO Kim and Xian - ASAP 2012- KimXi fans.
CTO Kim and Xian with some KimXis 1-13-12
CTO Xian in California with some fans.
As a fan, I cannot be objective in my assessment of fans and how they should comport themselves around the actors they admire. I can only go back to what I learned from childhood--from my mother, the Golden Rule. "Do unto others as you would have others do unto you". "Be kind, be loving always", from a friend. "Be good," from my father. " Be yourself, but don't abuse", from my brother. "Love one another as I have loved you", from Jesus. "Pray, pray, pray", from Mama Mary. These tenets have held me in good stead for years.
From Aristotle , there should be "Moderation in all things." "No high expectation that there will be no huge disappointments", is just something, I imbibed from my years of dealing with people. I have applied these to my KimXi fan life. Even if I wish to see Kim and Xian together forever, the love I have in my KimXi heart for both Kim and Xian allows them the freedom to choose THE ONE. I can only wish their happiness solo, with each other or with another.
CTO And I love her by the Beatles
As a former Kimerald, then a KimBao, now a KimXi, I flow in the reality of Kim and her pursuits; being happy where Kim is happy being together with Xian who listens to all her problems and makes her laugh all the time and happy for and with Xian who has finally found the woman who understands and makes him happy in Kim . Their lives intersected and virtually my own with theirs; mine born out of need to relieve life's stresses...theirs at a time when Kim was at the lowest ebb of her life, missing a boyfriend and a loveteam simultaneously; Xian, needing to have a break to set his career in motion from the inertia of rest it was in ; each need filled, pain assuaged, in God's will and grace. The fan and the stars being each other's source of life's happiness. God is good all the time!
CTO - You Raise me Up by Josh Groban