"There are two basic motivating forces: fear and love. When we are afraid, we pull back from life. When we are in love, we open to all that life has to offer with passion, excitement, and acceptance. We need to learn to love ourselves first, in all our glory and our imperfections. If we cannot love ourselves, we cannot fully open to our ability to love others or our potential to create. Evolution and all hopes for a better world rest in the fearlessness and open-hearted vision of people who embrace life."

―

John Lennon


CTO - Fear is still there...KrisTV December 2011.
Kris: Takot ka talaga? Takot ka pa rin? (pag dating sa mga relationships)

Kim: Yes… (about to cry)

Kris: Ay… Iiyak ka nanaman? Umiiyak ka pa rin? (sad face)

Xian: (tingin ng tingin kay Kim) Hala, bakit ka naiiyak?
CTO - Love in place of Fear...Xian offering himself as Kim's "Pakpak" Jan. 2012
It all started in early 2011 when My Binondo Girl was on the storyboard perhaps and there was this need for a Chinito to play the role of Andy; one of three leading men to Kim Chiu's Jade. One of those ordinary things that happen in tinseldom except that this was no ordinary TV series, this was the first one that Kim will have to do minus perennial partner Gerald Anderson. That alone would lend it some place in Kim Chiu's showbiz history.
Andy or Xian was third in contention for Jade's hand; first there was Matteo Guidicelli playing the happy go lucky Trevor Wu. A fellow Cebuano and a close friend of Kim Chiu, Matteo was first in line until something came up which technically eased him out of the race.
The second one for Jade after Trevor was Onyx, played by Jolo Revilla, the childhood friend of Jade who had this great rapport with Kim as Jade but unfortunately, he fell to some mysterious malady, a severe migraine that had him stay in hospital and took him out of taping sessions for 6 weeks.
The story had to flow and Andy who was only supposed to go for the male persona of Jade named Yuan Sy had to take up the slack to pair up with Jade and did it so well, the resulting tandem named Jandy spawned a new set of fans coming from the lovers of Asian telenovelas who were not fans of either of the two. My Binondo Girl revolutionized Pinoy pairings to include those of Chinese ethnicities.
Jandy, a contraction of Jade and Andy to denote the loveteam, was born. Jandy fans which turned KimXi when Xian also showed her fascination for Kim proliferated throughout the show's airing and grew to epic proportions with fans spanning the globe and crossing barriers and all ages starting from 2 to 92.
CTO - A 3 year-old singing Xian's Ako'y Sayo Lamang
CTO - A typical fan reaction to a My Binondo Girl Jandy scene.
CTO - Maam Charo reacting like a KimXi on .12 and .30 secs. Dec. 2011
The KimXi tandem is truly phenomenal, one strong supporter is Mr. Rico Hizon, a BBC Business News Anchor based in Singapore plus a number of professionals, doctors, nurses, lawyers, accountants included among the regular fans who number in the tens of thousands. From Jandy to KimXi, the pair flourished in their shows with commercial establishments lining up for Xian, gaining him a bumper crop of endorsements. It appears that his studio has just tapped the tip of Xian's hidden talent and we are all awaiting more from him as Kim is.
CTO - Following is a collage of pictures that sealed the chemistry of the two stars even before the epic kiss. My Binondo Girl scene depicting Andy's growing awareness of Jade's charms - the Sleeping Beauty awaiting her Prince Charming. The light snore and his amusement and her slowly coming out of sleep that took him by surprise.
Here, we can see the striking similarity of their features - from the chiseled nose to the cupid bow lips; their flawless skin highlighting prominent cheekbones and almond eyes...beauty might be in the eye of the beholder but this two have it in such a way that anyone and everyone who looks at them can only remark on their gorgeous good looks.
Kim and Xian strike those who see them for the first time as more good-looking in person than in their pictures. Starstruck is the word most often used at first sight of Kim or Xian but what is truly remarkable is, both are also innately good, humble, kind, generous and loving and totally oblivious of their own good looks. Beauty inside and out!
What can we say but give our thanks to God that in this day and age, there are still young people like them - respectful, prayerful and loving towards themselves, their families and friends and most sincerely towards their fans attested to by a constant flow of fans that go to their tapings, shootings, shows, etc.
Good looks that defy personal preference that upon the sight of any of them, one just automatically says, "Wow" or be dumbfounded as so many who have seen them personally attest to...one going poetic as to say "her eyes are pools of water that one can get lost into" and it is a woman who says this; or of Xian, "throw away all of your photos of him as they just don't do him any justice"; one go so far as to say, "any more time with him and I would just fall down and swoon at his feet; the other seeing the two together says, " I almost died at the sight of them" or, "I can die now". Hyperbole all but both totally deserving of the effusive praises.
Blame My Binondo Girl and their explosive chemistry in it that rendered all who watched them craving for more of the same.
CTO - Xian, in the scene that had him sweating hard, even forgetting his lines...in his first close encounter with his leading lady, Kim Chiu.
Xian came into the picture, into his MBG role in mid-2011, only wanting to prove himself after three years of flitting from one project to the next, bit roles that created no ripple; where he recalled the empty seats at the mall shows he was invited to or embarrassingly unrecognized by the guards who refused to let him in to his own gig. This was at the early stage of his career when he had to go and perform before a nonexistent crowd and where the host had to "beg" for an applause from the bystanders in the mall.
CTO - Xian performing to capacity crowd in Baguio City for the Pinagbenga Festival - Feb. 23, 2013 in contrast to his empty chairs in the distant past.
Getting to know you phase...
Xian was totally unprepared for the likes of Kim -- beautiful, friendly and smiling even after 24 hours of work; enthusiasm still high. She who at first could not get his jokes nor treated him any differently than the rest - stars, staff and crew alike.
Kim was just plain friendly to everyone. Slowly but surely, she broke into his facade of not talking unless spoken to, this wall of silence and standoffishness which was mistaken for someone with serious trust issues. The friendly overture from the lead star was to him unprecedented and unreal and he with all his great resolve to stick to business is business, fell under the spell of the Kim Chiu charm and since then he was a goner, methinks.
Xian has one great trait to his credit. He is consistent in saying that he is a "relationship type of guy" and what a blessing that Kim is also the same way; she also takes love seriously and is also serious in her relationships that she only had one puppy love and one first love in her 22 (turning 23 this April) years.
Here are some twits from @ericjohnsalut in 2011-
Print & Social Media Manager, TV Production/Dreamscape, ABS-CBN Corporation. Quezon City, Philippines.
CTO - "Definition of sweet", --Xian describing Kim.
Kim, the object of Xian's affection, a year or so after E.J. Salut first twitted what
he noticed of Xian's ways towards Kim.
The Evolution of KimXi...
CTO - Then...in August, 2011, look where Xian was from the center.
CTO - Now...Xian standing tall beside his ladylove. Feb. 24, 2013.
Crossing the Great Divide...Kim's stature, fears, lack of self-love...
CTO - Kim Chiu conquering a lot of fears - from hosting a major event in Himig Handog Festival 2013 to the fear of falling in love again.

Xian and his Great Resolve; his focus on work only...
Kim Chiu, Xian's nemesis; his achilles heel; the one who has broken his resolve not to fall in love, not to fall for his co-star. Work takes prerogative. Love waits but for Xian, this also became all too real as his dream lady is not one to fall in love easily; she was wrapped in fears and her heart has turned cold. What to do, the hopeless romantic who did not exert much effort in the past to get his girl outdid himself in proving what he felt was true and for real.
Xian Lim admits it's not hard to fall in love with Kim Chiu
The 22-year-old model turned actor admitted that working with the cast of My Binondo Girl has been nothing but enjoyable so far. Xian even singled out Kim as one of the sweetest girls he has ever met. "I love working with them, lalo na si Kim she's really sweet. She's a really sweet girl like I've never seen anyone sweeter than her. When I see a sweet girl, I'm reminded of Kim. She's the definition of sweet. Her strongest quality is that she's a really sweet girl. Hindi ko makita yung side niya na yung napipikon. Hindi ko pa nakikita yung side na ganun. She's always smiling. Parang very magaan kasama. I guess that's yun lang yung secret doon eh. If magaan kasama yung tao na your with, then it's nice to be around them," he told Push.com.ph.
Xian admitted that it's not hard to fall in love with someone like Kim, although it's too soon to tell if he actually will. "Yeah, why not 'di ba? If I see someone that I can get along with super well then no questions asked 'di ba?" he said. Although even Kim has admitted to the press that she and Xian get along well even off-cam, Xian said he's not looking to get into a relationship anytime soon. "Wala I just want to focus on My Binondo Girl sobra. I just want to focus on work. Focus na focus. I mean I'm not saying na hindi ko gagawin. Pag may na-develop, na-develop 'di ba? I don't have a love life. Promise yun. They won't see me anywhere with a girl and if they do, that's not a date. For now wala pa talaga. I'm still looking, searching. But I'm not supposed to be searching. It's not a priority. Work is my priority for now. I don't want to be eating up my words but work is my priority for now," he explained. http://push.abs-cbn.com/features/3839/xian-lim-admits-its-not-hard-to-fall-in-love-with-kim-chiu/
CTO - All the things that you are by Ella Fitzgerald
Then the walls crumbled...
There comes a point when a woman can no longer deny it...when "the feeling deep inside" gets shouted out in so many ways...except through words and can send such mixed signals, at times the man gets all confused and the viewer gets all bewildered; he, all tied up in the knots of his words and the fans, only thinking positive, goes for the best case scenario and envision wedding bells and godparents!
CTO-Finally, bringing the "Pakpak" proudly into the limelight - 9-1-12
Star Magic Ball 2012 Couple of the Night - Kim Chiu and Xian Lim - 9-1-12.
There is no middle ground. It is quite funny but no one is laughing; there is only this exultation, a feeling of happiness surging, it comes out as screams when two KimXi fans start to talk to each other--a huge waaaaaaaaah written out or a huge waaaaaaaaaah screamed to one's eardrums on the phone...a few decibels higher than normal, coupled with a jig or two! Kim and Xian, you have bewitched us all!
CTO - Kim now comfy...the hands have it! Xian, all too comfy too...not minding the straying hands. 2013.
CTO - Kim shyly shrinking into Xian's warm and tight armhold in California; this picture of them together debuting in Xian's IG in May 2012, signaling a deeper friendship(?) between the two. First time Kim allowed a picture of her and Xian on his instagram.
CTO -
March, 2013.
Kim returning Xian's armhold with a toothy smile to boot. Kim isdatchiu? Going...growing...glowing...the Subic breeze and the Baguio chill blowing away the cobwebs of fear and shyness...here is Kim with a wide-eyed smile that reaches her eyes. Xian, looking real proud of his better and fearless Babe.
CTO - Xian surrogate mom and Mint owner Apuysy thanking the two for their gifts from Baguio and Kimmy's Like.
Close friends think of them as a couple now. Most likely, they are or they strike them as a couple; either way, they are thought of as a couple. Can anyone blame us, KimXis?
Is he in love? W

hat are the tell-tale signs?
CTO - Xian Lim...a dream of a son; a dreamboat to all - Crush ng Bayan; crush of many out there...
Knees feel like jelly and throats go dry, cameras are forgotten when Xian turns their way; starstruck, awestruck, dumbstruck, all sorts of "struck" even thunder or lightning struck as one even just felt like swooning at his feet if she stayed any longer at his side; the serious, crazy side of crushing; there is this need to keep abreast of what is going on in his crushy's side; what has he twitted, IG'ed; is he sad, forlorn, hungry, angry or ecstatic! One lingering question is, is your Crush in love and how can you tell.
http://love.allwomenstalk.com/signs-your-crush-is-in-love-with-someone-else/
Cast of Characters: Xian - Crush ng Bayan
Kim - the other girl - the one Xian falls for.
1. THE FRIEND ZONE -
"
If he's in love with another girl, you could be dancing in a racy negligee and he wouldn't even notice it. "
CTO Xian, first from the right and the beautiful girls he gets to work with.
Xian, with all the beautiful girls on the ramp and in the industry he is in, has declared he is more for personality than outside physical beauty and to him Kim has that for him plus beauty too, as a bonus.
Xian has said that he could find Kim even in the dark, while blindfolded; a little exaggerated but he says this to emphasize that Kim to him is unique and her personality shines through the darkness; perhaps alluding to the darkness he was in, the world where memories of bullying, abandonment, wandering around for a real home, dwell.
Kim is the shining light that pierced through all Xian's own darkness; someone who understood and continues to understand as she has also gone through a similar experience of emotional bullying, abandonment by a parent and wandering around Philippines for a real home.
What a good God we serve for putting the two together in His time; a gift for their
innate goodness, humility and prayerfulness.
CTO- Xian, inspired; found a friend; someone he wished to be more than that of.
Xian on the song, Ako'y Sayo Lamang, which he wrote for Kim early in My Binondo Girl, not even knowing he would be the endgame to Kim's Jade, says:
"It's more of my appreciation towards her. It's somehow a way for me to show her my respect and how much she's worth--she's worth everything," Xian was quoted as saying about his leading lady.
http://www.pep.ph/guide/guide/9316/kim-chiu-says-about-xian-lim-he-is-thoughtful-nice-and-a-hopeless-romantic
... Ano, syempre, si Xian … Thank you! Sa kanta pa lang parang … the lyrics parang pinapakita nya talaga yung respeto nya sa akin, and kung ano talaga yung dapat na maramdaman ko as a girl. And yun, lagi sya nandyan! Sana wag ka na mahiya! Masyado kang mahiyain! Mag open up ka naman ng konting-konti! And yun, sana ano,

sana makilala pa kita, magkakilala pa tayo

and yun! Yun lang. Thank you, thank you. - Kim to Xian
KrisTV 12-08-11.
2.
THE EYES TELL ALL -
"
Check out his eyes when his love interest enters the room. When he makes eye contact with her, the air appears to light on fire. If he's
in love
, he looks at her very differently than he looks at anyone else. One of the signs your crush is in love with another girl is that his eyes sparkle and light up whenever he is near her
. Remember, the eyes are the windows to your soul, so if you look deep enough, you may see that he loves her."
CTO Xian - "the windows to your soul" are telling on you...Singapore Oct. 2012
CTO - See for yourself. CTO - The eyes have it...
November 3, 2012 L. A. September 1, 2012 - Star Magic Ball
CTO - "The Look of Love is in your eyes, the look your heart can't disguise"
January 24, 2012 - His eyes, his eyes...
CTO - "Cause I only have eyes for you" 01- 24-12 Himig Handog Finals Night
The lady in blue and the gentleman in gray lost in their own world with two hosts with them and thousands before them; the LimChiuniverse rotating on its own axis; revolving around its own sun - Kim Chiu.
CTO - I only have eyes for you by Simon and Garfunkel
Xian has been making or makes these long, lingering gazes at Kim. One of them was noted by Noringai, head writer for My Binondo Girl. He was at the MBG set and was chatting with Xian when Kim came along and sat down for a bit with them but had to leave for a scene. Noringai noticed his long, lingering gaze towards Kim as she left and twitted about it.
CTO - This could be the type of look Noringai saw in Xian or even more dramatic than this as Kim was walking away from Xian then. January 2012.
Xian must have been checking himself towards his goal of making work his priority; it seems the call of love sounded stronger than his resolve. Fans are noticing the meaningful stares and how quickly
he hides
it when Kim looks his way.
CTO - Kim being interviewed...look at Xian - mesmerized...early 2012.
CTO - Xian Lim - if these eyes are train on a certain girl and not on the cam and the pupils dilate even in the light, then that's the look.
The Look that brands Xian more than his words could say.
3. HE IS SO HAPPY -
"
Another one of the signs he has fallen
in love
with another girl is that he radiates happiness whenever she is around him. He's elated because she is in his presence. You will notice him frequently
flirting
, blushing, laughing and smiling at her. Blame his crazy euphoric feelings on the dopamine flooding his brain whenever humans fall in love."
CTO - Crush ng Bayan Xian radiating happiness around his love, Kim...
CTO - Flirting and Blushing...dropping his mic...his face and ears turning red...
CTO - Happily showing Kim his pics in the mag...his P.A. equally amused. All ears Ate Haidz keeping her smile hidden and demure.
CTO - Xian and his jokes and Kim bursting into unabashed laughter.
CTO - Taping lull...tired but still sharing a laugh with Kim and fans.
Crush ng LimChiuniverse, Xian Lim, crushing on Kim...or falling in love with Kim, slowly but surely, with his wanting to "make Kim happy; wanting to make her feel special" everytime he's with her. Looks like he's succeeding judging from the sparkles in Kim's eyes that mirror his!
4. IS IT HOT IN HERE? -
"
Anyone within a 100 foot radius can tell that there is something special between them by the way they interact.
To him, she is the only girl in the room."
CTO - Mall of Asia Arena was packed to the rafters but to Xian, Kim is the only girl in the room. His eyes shout this from the rooftops; if only they could speak! Kim, keeping her eyes down; her peripheral vision closely aware of the direction of his gaze; shyly holding back her smile.
Their favorite phrase is "Mainit na ba?" Their discomfort rises when they are asked of the real score between them. Xian says quickly, "what you see is what you get?" This is what we see, the long, lingering gaze that renders Kim immobile; sizzling, electrifying chemistry reaching the viewer through their photo and they're not even touching. Amazing!
CTO - No other girl in the room for Xian but Kim...nobody, nobody but Chiu! Here she is conveniently locked under his arm like a Lego fit -- just right.
CTO Henni Espinosa of Balitang America Interview 5-26-12 of Kim and Xian
Xian in this interview is at his most natural, flirtatious, happy, teasing self. You can also feel his blush though this time he now has a certain confidence around Kim which was not there in the latter part of 2011 or early part of 2012. He feels so at home with host Henni E. who was so good at ferreting out information even from shy, reticent Kim.
Xian,in the land of his birth is more open and voluble judging from his responses; detailing that his chemistry with Kim is there because it is really there for real though he is also quick at marching to the beat of Kim's drum who attributed such to the storyline adding that it was not hard for him to internalize being in love with Kim in My Binondo Girl gesturing towards her face. Kim likewise admitted that it was not hard to be in character by saying , "Cute naman sya", a phrase which is clearly an understatement of Xian's gorgeous good looks.
The "hotness" or breaking into sweat around Kim is spoken of on 7:23...from the signs given so far, Xian is unmistakably in love with Kim; with Kim also slowly but surely getting there. Kim literally broke into sweat during the interview when both were ask more persistently this time as to the real status of their relationship.
Then boom, Kim just said the magic word three times. "Happy, happy, happy being together" with Xian, pointing at him. Xian , too, feeling happy that finally there is someone who really understands him and there's some excitement which he feels knowing that she is there for him.
What a happy world they are in! To me, this is their best interview barring none. Here, Xian is Xian and Kim is Kim; referring to what they feel for each other as undefinable, "Nothing can define it, nothing can define it"! Friends, lovers, no label! Who are we to force them to spill it out or spell it our for us when they themselves are stumped for words. Kim and Xian, kayo na!
5. ALWAYS TOGETHER -
"
Another one of the signs he has fallen
in love
with another girl is that he's spending the majority of his time with her. He invites her to do just about everything with him even if its mundane tasks like picking up the dry cleaning."
CTO 1-15-13 - A movie date...
http://kimxispotted.blogspot.com/2013_01_01_archive.html
CTO

2-13-13 - Kim and Xian after their guesting at Resorts World Manila were sighted at Manila Hotel for a late dinner, day before Valentines Day. More private and where people are more discreet.
http://kimxispotted.blogspot.com/2013/02/at-manila-hotel.html
In 2012, there were 62 offcam sightings of Kim and Xian all documented on kimxispotted.blogspot.com.
They are the only pair I know who has a blogger dedicated to jotting down their dates as spotted by fans and non-fans alike.
Their being seen together is said of as a "dalmatian moment" alluding to the breed of dogs bearing spots and how they refer to seeing them as "spotted" and thanks to the digital age these are posted through twits and IGs in real time which are also "spotted" by KimXi fans and shared widely to the delight of all Kim and Xian followers worldwide.
CTO - Kim and Xian at WORK...Hosts of Himig Handog Finals Night - 2-24-13.
CTO - Kim and Xian with the Chiu household packing relief goods for Habagat victims, August, 2012. Charity Work.
CTO - At PLAY enroute to Church in Manaoag Pangasinan - 01-2-13 Kim and Xian with Kim's brother JP.
The "another girl" meant here of course is Kim and the one referred by the article I am citing is anyone who has an active crush on Xian, which could be you or me and a gazillion others.
CTO - Kim and Xian playing Badminton together, definitely a first on cam! 3-9-13.
BADMINTON is the name of the game!!! haha thanks mama dais for the invite!! saya!!!
5h
We see that this two, Kim and Xian, love each other's company, they gravitate towards one another, just wanting to be at each other's beck and call, forever chatting, smiling, laughing and at times they let some visiting fans into their inner circle or some friends too but inevitably, they come together. Why? I believe we know the answer.
CTO Even their moves and colors are synchronized and coordinated...Kim and Xian,
competitive, sporty, all smiles...what a night!
Makati Shangrila after J. Lo's concert. Kim was with her friends (without Xian) but bonded with him after the concert. November 26, 2012.
CTO - Connecting the "strawberry dots"...only a few hours off Baguio together with Kim proceeding to Pampanga for an IKA mall show and Xian floats a teaser which did not escape the KimXis sharp CSI eyes and connected the two photos from the Le Chef, a Camp John Hay Baguio fine dining resto the two had dinner the night before and voila'...the missing object is actually a person...March 3, 2013.
The reason it hurts so much to separate is because our souls are connected. ~Nicholas Sparks,
The Notebook
Anyone who has asked Kim and Xian including their Ate/Ms. Kris whether they are seeing other people outside of themselves or making ligaw with other girls, in the case of Xian or accepting other men's panliligaw, in case of Kim; their answers are an emphatic "No". No, they are not seeing anyone else for romantic reasons. Not Kim nor Xian. They are the only ones they are interested in seeing outside of work or bonding with others in basketball, e.g. or with Kim, bonding with her close friends and/or family.
CTO - At Ultra Oval for a morning run with Kim; Dinner at the Village Tavern 12-12-12; watched the movie Twilight after with friend and family.
Notice the comfy lean or "sandal" on Kim...Xian is proprietarial here.
CTO Dalmatian moments...SPOTTED!
Outside of family and each other's outings with close friends or family, they are each other's shadow in dinners, parties, movies, horse back riding, meals at home and each other's textmates, etc. Kim and Xian spend almost all of their waking hours outside of work with each other. To them, being around each other at work is not the same as being together where they can hang loose, make long, lazy conversations at a dinner table or simply perhaps just doing some sketching, guitar playing, etc. or even just resting.
CTO - Subic - Post Christmas Celeb - 12-28-12
Missing Kim the whole Christmas Day plus 3 more on their separate Christmas vacays with their respective families in Hongkong for Kim and Vietnam for him prompted Xian to spend the rest of the holidays with Kim in Subic and at her home to meet the New Year! That must have been a memorable one for Xian who only had himself and his Mom in the past. Now, he has in addition to his Mom the Chiu family, Chiu household at the Chiu home amidst Media Noche, fireworks and his ladylove. What a good way to start 2013!
CTO - Their eyes sparkle, their countenance glows as they smilingly look at the camera fearlessly showing their happiness in each other's presence, breathing the same air each other breath, arms entwined at their backs, late into the night or early dawn, still looking fresh and upbeat, good for a few more hours of work.
Wearing each other's favorite colors, a deeper shade of pink, more red than pink and blue, Kim and Xian have become one in thought, word and deed and pose before the cam of fans who join them in their sleeplessness, they in their work and them in their great desire to be around one of their great sources of joy and love; making Kim and Xian happy as they in turn making them happier in their (Kim and Xian's) happiness. If that is not love, we don't know what is! A cycle of love that fills and replenishes in each other's presence. Togetherness is love; togetherness is happiness.
But Ruth said, "Do not urge me to leave you or turn back from following you; for where you go, I will go, and where you lodge, I will lodge. Your people shall be my people, and your God, my God. Ruth1:16
6. LESS COMMUNICATION - "
He has fallen hard for another girl my friend if he is constantly talking or texting her."
MORE COMMUNICATION to his fave girl - Kim...
the only ones we could
catch those on his twitter or Instagram and from Kim's own responses to reporters' questions; and following are some of them:
Kim Chiu spent Valentine's Day on a yacht with Xian Lim
...snipped...
February 14, 2013.
According to Kim, last week she was with her family and close friends in Subic when she received a call from Xian.
"Nag-Subic din siya," Kim began. "Sabi niya, may shoot daw siya doon.
"Sabi niya, 'Punta kayo dito sa Subic Yacht Club.'
"Sabi ko, 'Ano'ng meron? Sige na nga, pero sandali lang kami kasi mangangabayo pa kami ng mga kapatid ko.'
"Then, noong pagpunta, may pa-yacht si Kuya! Nagulat naman kami!
"Kasama ko 'yong pamangkin ko, 'yong ate ko, at saka isang kaibigan ko.
CTO - Xian's surprise gift to Kim posted on IG with a caption. July, 2011.
CTO - Via Twitter or Magazine article he reaches out to Kim Chiu... he is awaiting her arrival or telling the world Kim is his favorite leading lady...
CTO - Christmas Serenade - "You" by the Carpenters by members of a Choir, gifts and a card to go with them...
CTO Xian's Harana for Kim - Christmas Serenade - You by the Carpenters
December 23, 2011.
Kept a secret, Direk Francis, hearing some good music went to Kim's tent and caught the tailend of Xian's Harana rendered by the Choir members Xian "kidnapped" from a nearby Church for his Christmas Serenade. Kim was delightfully surprised and looked so happy and giggly over this loving surprise.
CTO - Xian's 2012 Valentine's Day Greeting to Kim on her IG.
CTO Birthday Greetings and Birthday Love Rose Tree - 4-19-12.
chinitaprincess wow!!!! haha THANK YOU!!! 10h
—
Xian to Kim from the heart - from his heart to hers.
Communication between Kim and Xian was steady and frequent - dinners, Subic, movies, home visits, etc.
Kim held a special birthday for Xian with some close friends. They also had international appearances in Hawaii, California and Singapore. Taping for Ina, Kapatid, Anak started sometime in July. Their bond grew tighter with each day they spent with each other though they remained adamant at saying that they are just friends, best of friends, best friends.
http://kimxispotted.blogspot.com/
7. HIS CHOICE OF WORDS...
"
When you finally reveal your feelings to your crush, he will say he doesn't want to ruin the awesome friendship that you guys share".
Xian, judging from the time, effort and consistency that he puts into what he says in making Kim "feel happy, feel special" not only in words but more of action, I can only say one thing, Xian is in love and his love's name is Kim. His words create waves as Xian has this romantic nature that comes to the fore everytime he is asked of Kim and the things he does for her.
Following is a song he has mentioned as inspired by Kim at KrisTV 10-01-12; one that he kept from Kris A. and is one of songs used in Ina, Kapatid, Anak.
CTO - Kungdi Sa Iyo - by Xian Lim
"
Kung Di Sa Iyo"
Minamahal Kita, Para bang kailan lang
Tayo's pinagtagpo ng di sinasadya
Biglang sasulyapan, Sa gitna ng digmaan
Sa buhay kong dati'y may kahinaan
Kung 'Di Sa Iyo, Anong halaga ng buhay?
Kung 'Di Sa Iyo, Kaya pa ba ng puso?
Ang magmahal
Kung 'Di sa iyo, Maririnig pa kaya ang pagtibok
ng puso ko?
Wala ng iba, Dibdib ko'y puro kaba
Sa tuwing nakapikit, Ikaw ang nakikita
Mula sa paggising, Sa aking paningin
Sa bawat sandali, Ala-ala ka sakin
Kung 'Di Sa Iyo, Anong halaga ng buhay?
Kung 'Di Sa Iyo, Kaya pa ba ng puso?
Ang magmahal
Ikaw lan ang mamahalin,
Dito sa puso at damdamin
Ikaw lang....
Kung 'Di Sa Iyo, Anong halaga ng buhay?
Kung 'Di Sa Iyo, Kaya pa ba ng puso?
Ang magmahal
Kung 'Di sa iyo, Maririnig pa kaya ang pagtibok
ng puso ko?
The lyrics of the song as that of Ako'y sayo lamang tell Kim what he truly feels for her, his love, its beginnings, his assurances, his hopes and how he wishes that such should be reciprocated that life be made worthwhile and be worth living.
Kim is happy, happy, happy together with Xian and Xian is happy that there is someone who truly understands him. There testament of what they are to each other makes one believe that indeed there is a God who listens to prayers from the heart and showers His graces that love may prosper among two people so deserving to be happy and to be happy with one another.
CTO - Kim and Xian as Celyn and Liam in Ina, Kapatid, Anak. Celiam soon to come forth. Photo released March, 2013.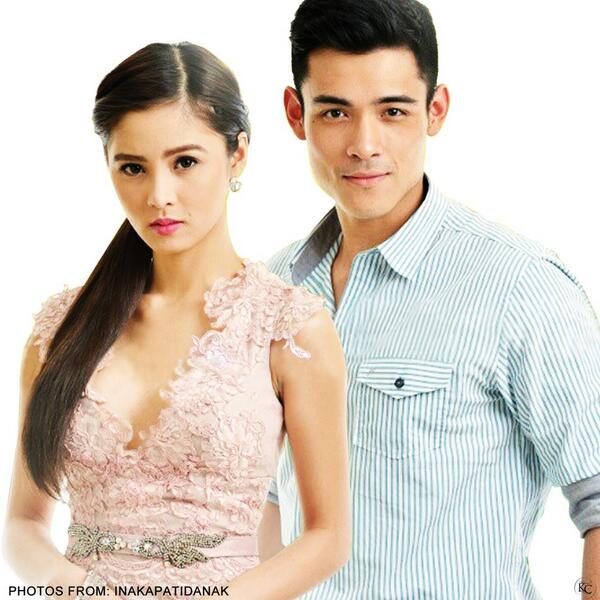 Xian Lim on rumors confirming romantic relationship with Kim Chiu: "Yan ang kayang gawin ng internet ngayon. Mahirap kasi kaya nating gumawa ng kanya-kanyang istorya."
"Siguro bilang isang lalake naman, you want your Valentine's to be special. It's just that it's Valentine's day, di naman ako naniniwala na Valentine's Day, we do something nice to a person, e. "I believe everyday, every time you guys meet, you make it special. Valentine's Day, sweet, happiness."
"Nandun siya with her family, so hayun... it feels good to see other people happy," saad niya. -
Xian Lim
http://www.pep.ph/news/37678/xian-lim-on-rumors-confirming-romantic-relationship-with-kim-chiu-ldquoyan-ang-kayang-gawin-ng-internet-ngayon-mahirap-kasi-kaya-nating-gumawa-ng-kanya-kanyang-istoryardquo 3-2-13.
Xian Lim on courting Kim Chiu and her family: "Sana magustuhan nila ako… mabuti naman akong tao."
XIAN'S PLEDGE. Nagbitiw rin ng salita si Xian na kahit ano ang mangyari ay hindi siya mawawala sa tabi ng kapareha.
"Isa lang ang sasabihin ko sa inyo, basta nandito lang ako para sa kanya.
Xian Lim on his intentions to Kim Chiu: "
If ever mayroon siyang kailangan, problema, nandito ako para problemahin yun, kasama siya."
http://www.pep.ph/news/35119/xian-lim-on-courting-kim-chiu-and-her-family-ldquosana-magustuhan-nila-akohellip-mabuti-naman-akong-taordquo 7-31-12.
A week after a dearth of KimXi sightings that raise the level of Team KimXi anxiety to high heavens; add to that the distressing IKA with Celiam still cold to one another; plus some show reporting something there was really no KimXi that Kim was keeping a secret "boyfriend".
In fairness, this secret boyfriend answered a direct question. His answer was a denial of any dating with Kim. What a relief though Kimxis never really entertained the notion of a boyfriend on the sly by Kim. Then boom! Pictures evidencing that KimXi are practically 24/7 with each other surfaced;
an avalanche of pictures that completely took Kim and Xian fans by surprise and catapulted everyone to heights of KimXi heavenly bliss!
From morn to morn for work and even for off cam activities, wow!
CTO - Direk Don paying a surprise visit at Kim's place and caught Xian there. Early morning run for the two to explain Xian's presence, perhaps? Picture at left taken in 2012 with Xian cropped; In the two other photos Xian is shown in all his shining glory.
CTO - Here pic is clearer; the columns in unmistakable glazed quarried stone and the rattan seat and pillows are one and the same as that of above 2012 photo taken at the lanai in Kim's home. Just connecting the dots. 3-09-13.
CTO - Here Xian and Kim are clearly looking so happy together; Kim cozily ensconced in Xian's arm, looking contented and much loved; Xian and his happy smile says it all! The tight hold is a something new from Kim. Kim has found her new love, her knight in shining armour and his name is Xian and she's not letting go! Blessed! Prayer is power!
CTO - There is a lightness of being that we see in the high comfortability and the beautiful smiles that reach the eyes...Xian dipping low; Kim's head on Xian's arm; her arm on his lower leg; the glint in his eyes lend this picture such warmth, without anyone pointing, we know which in the group are a couple.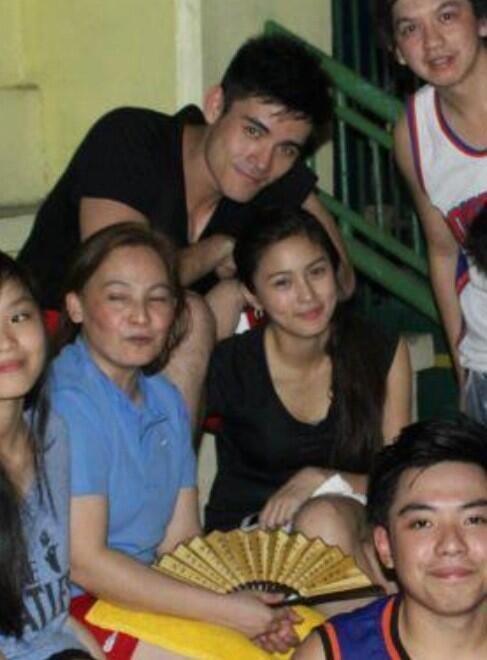 CTO - Xian here looking so proud, his whole stance claiming , this girl is mine!
Color coordinates; their stylists must be friends! Ah, love, even the colors speak!
Clearly, Kim and Xian have taken their relationship to the next level. Taking it slow is no longer an option. Xian's left hand holding Kim's at his back while his right arm is around her waist. Kim, Xian - fears conquered, love abounds and if love abounds, so does happiness!
CTO - Xian Lim assuring, reassuring - he and Kim are happy! We are happy and
proud of you both, Kim,Xian! Your happiness is our happiness. Love, love,love!
CTO - At Last by Etta James
-o0o-