All our dreams can come true, if we have the courage to pursue them.
Walt Disney
Dear Ma'am Charo,
I was a young housewife with a sick child and I remember I was at a drugstore fronting Fuente Osmena in Cebu City when your entourage came by. I was a fresh transferee to Cebu from a small city in Negros and you were the first celebrity I saw and I was starstruck.
For a spell, I forgot I was there for some medicine. This was in late 1970s.
I remember your movies after your stint as Baron Travel Girl and one of them stayed in memory, Aguila and your pairing with Fernando Poe Jr.
Your being an award-winning dramatic actress, your getting into producing films in the late 70's and early 80's earned you an invitation to join ABS CBN in 1987 to be its Production Manager. Maalaala Mo Kaya which you started/hosted in early 1990s is still an all-time favorite into the 3rd millenium.
26 years later, close to five years of which were spent as its President, you will enter the year 2013 as ABS-CBN's President and new Chief Executive Officer following the retirement of Chairman of the Board and former Chief Executive Officer, Sir Gabby Lopez. Ma'am Charo, you have not only pierced the Glass Ceiling; you have broken it. There is no longer any Glass Ceiling to pierce after this for you!
What a grand accomplishment! Congratulations and best wishes and more blessings for you and the ABS CBN family!
CTO Ma'am Charo in an undated photo.
Fast forward 2006, a bubbly, perky, shy but wanting-to-be-seen on TV and wanting to help the family, Kim Chiu, blazed into our consciousness. I went back to caring for a sick person in the family, this time my husband who suffered a stroke in 2005 and as full-time caregiver, TFC shows became a major stress reliever.
CTO Kim Chiu at the My Binondo Girl Press Con mid2011
I notice a close resemblance, especially in this photo, between Ma'am Charo and Kim. It must be the eyes that look directly at you with a lot of candor and a lot of charm, though if I may/can say it, Ma'am Charo has the more dreamy ones here.
CTO Kim and Xian at the Meet and Greet in LA 11-01-12 promoting IKA.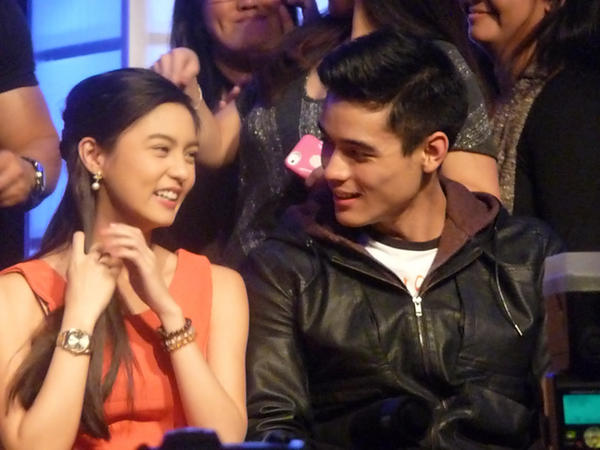 The two who captured everyone's imagination in their very successful pairing in My Binondo Girl are together again in Ina, Kapatid Anak as Celyn and Liam; first aired, October 8, 2012 .
-------------------------------------------------------------------------------------------------------------------------------------
Now with me, 30 years as an immigrant then citizen of an adopted country, my heart still beats Pinoy and ABS-CBN shows remain a staple in the home. I became a fan of Kim Chiu and her shows; watched all of them without exception, read all about her and the one that broke all "inhibitions" was My Binondo Girl and the KimXi craze that followed after.
I joined a fan group on Pinoy Exchange called Team KimXi and started a blogsite named kimxianity.blogspot.com solely on, who else but Kim and Xian. Being shy, introverted of sorts, I blew my cover. Too late did I learn my blogspot sharing also lands at my Facebook timeline. My husband, a converted KimXi, reminds me to drop my chores and join him with Ina, Kapatid, Anak. Our kids, now grown, are happy that we are happy with our TFC plus, plus; one requirement we set before our move.
This brings me to the point of my open letter to you, Maam Charo.
Personally, I have the utmost respect for the creative and production teams of Ina, Kapatid, Anak as I wrote in my email to you today.
I salute them - the IKA staff, directors, actors, both veterans and the young ones, Kim, Xian, Maja and Enchong, for a cohesive, well thought-out, well-directed, well-edited and well acted Ina, Kapatid, Anak - No. 1 in the latest AGB Nielsen and Kantar surveys.
As a Kim, Xian fan, I am very proud of how IKA has conquered both fronts, MegaManila household and the National viewership survey ratings.
KimXi followers on Pinoy Exchange are however getting restive. They are anxious for the characters of Kim and Xian in the show to level up. Three months , they are still in the fringes. "Patience is a virtue" is a mantra in our thread. Now, patience is running thin.
Even my own husband, a new fan, thinks that Kim and Xian are the support to Maja and Enchong when they are supposed to be of equal billing with Kim and Xian; with Kim of course having more of an edge being the Primetime Princess and undoubtedly the advertising-load magnet along with Xian, among the group.
Ma'am Charo, please, is there a way we can at this stage get out of the Margaux-Ethan syndrome which has been at it for quite sometime now? I really wish to see Kim and Xian emerge as "the stars" that they really are not just "also stars" as my husband says it and may Xian's character also come forth befitting that of one who is the intended end-game for Celyn. I still have to see/hear Liam's back story told 3 months into the IKA airing. This would be an excellent chance for him to hone his craft more, given the chance.
No offense meant, please, to the stars, the production and the creative teams. We are only for improving the show not just to have our way because we are Kim and Xian fans but to see a more balanced, creative development among the young and the older characters alike and to not just revolve continuously on the angst that surround Margaux and Ethan (Maja and Enchong's characters).
Ma'am Charo, personally, I am on ABS CBN's side to maintain dominance in the ratings game; I hope it is not too much to ask for a build-up of Xian's character in the show and to spin off Celyn's character out of the beck and call of the star-crossed lovers.
Somehow, I see Celyn's behavior not running true to form. Where is the sense of defiance, her grand desire to finish school to help the family we initially saw in Celyn; the one who fled Cebu without her elders' permission to pursue her dream of a U.P. Diliman education? Where is the Celyn we saw who survived on 50 pesos on her first day in Manila? Where did all these guts and gumption go?
As for Liam, if we can please have a three-dimensional Liam; someone with more depth and more to him than just having a life when he is called on by his friends. I wish to know who Liam is, what makes him tick?
Many thanks, Ma'am Charo for your listening ear. I am humbly elevating my concerns to you, with the help of some of my KimXi friends, not because I cannot make headway with anyone else but hoping perhaps that you, seeing things at a perspective, may see more clearly where I am coming from.
I see the fruits of your leadership in these young actors and we see these so vividly in Kim and Xian; both driven to succeed but still so fragile and vulnerable and so human at it. I have no doubt that your example of excellence filters through to them and to all the talents, all the workers under your tutelage and the company's employ.
May ABS-CBN continue to thrive under your management and may all the shows afternoon, primetime, all the related enterprises - Star Cinema, Star Records, Star Magic, etc. remain leaders in their sphere in the industry that is show business.
God's blessings to you all always! Awaiting your kind response with thanks. I wish you and the ABS-CBN family a very Merry Christmas and a most Blessed, Prosperous and Happy New Year!
CTO - The Impossible Dream - Jed Madela
Very truly yours,
Gutsykx formerly Gutsykg (on KimXi thread, Pinoy Exchange )
This letter is prompted by my own concern over how Ina, Kapatid, Anak is going and does not involve anyone else in my group. My concern is that this has become a Margaux-Ethan lovestory. It is time for me to speak up. I am sorry.
Please see below a sprinkling of the growing impatience articulated in our KimXi thread. It is still a small flame, I don't want it to become a conflagration before I cry out for help. "An ounce of prevention is always worth more than a pound of cure."
CTO - I thank my fellow KimXis for allowing me to use their posts here in my blog. Those, I did not get to choose, I will probably use them some other time.
Posted by baketinay...on KimXi Thread
I have been reading all the posts of the KimXi fans in this thread and in IKA thread regarding their major disappointment as to how the story of this teleserye is going. I thought that I can be silent and just keep my opinion to myself, including the opinions of my family and friends here in the US. We are all diehard fans of KimXi since the very successful My Binondo Girl. Here's our take:
After MBG, we were all expecting that ABS CBN will give them another primetime teleserye, since it was proven that this tandem can draw viewers all over the world thru TFC.
We were kinda disappointed that it took a little longer for the studio to concoct a new teleserye for them. Nevertheless, we were excited when the announcement was made for the IKA project.
Around that time though, I started having a nagging feeling that this project is not 100% KimXi. I read somewhere that originally, this project was intended for other stars and that Enchong Dee was to be the main actor to play the main character. When ABS-CBN announced that KimXi and Maja Salvador are included, and that the new show will tackle a very interesting subject matter that has never been addressed before and that it will revolve around these 4 stars playing major roles, the curiosity and excitement took charge.
When the 4 stars started plugging and advertising the show before it even started, doing a lot of mall shows, guesting on TV shows, I was confident that this will be a blockbuster like Walang Hanggan.
Watching this show everyday from its inception, I totally agree with the frustrations of the viewers most esp the KimXi fans. I hope I'm right when I say that we, KimXi fans have been anticipating everyday to see the story of Celyn and Liam unfold after 3 months of airing, not just Margaux and Ethan.
My sense is that majority of the fans of this show are educated enough to see where the story is leading - and I think, as of today's episode, it is so clear to see that the story is not about Celyn, Liam, Margaux and Ethan or the effect of the subject matter, which is surrogacy. It is leaning more and more towards the love story of Margaux and Ethan.
Whatever happened to the pluggings and ads of this show from the beginning? For now, it is understandable that a lot of the fans are frustrated, watching this show everyday, hoping that the story will take a different turn.
On the other hand, I would assume that the directors and writers will have a counter argument on all of these complaints. They will think that they are doing the right thing, because they see that IKA is a perennial topgun in the ratings. And they will think that fans of the show are satisfied. Well, correct me if I'm wrong, I think the show is being pulled over the top by KimXi - they are the crowd drawers.
In my humble opinion, one of the reasons why IKA is frontrunner in the ratings, aside from the fact that this show is well acted and well directed, is because thousands of KimXi fans all over the world will give their full support to Kim and Xian - me and my family and friends included.
Every episode, all KimXi fans are glued to their TV set, all hoping that the writers will go easy on the Margaux-Ethan love story, and introduce the story of the other main stars - Kim and Xian, since they are also in the top billing.
It's funny, all of us complain and get frustrated about the never-ending Margaux-Ethan story, but we still watch, for the love of our idols.
To the writers, please spare us some heartaches and headaches.
Happy holidays, everyone!!
-----------------------------------
from kxmomma
HOHUMMM!!!! I am bored! With how it's going i'd much rather see the development of the tere-beatriz-julio conflict. Enough already! I am sick and tired of ethan's stupid immature decisions and margaux's spoiled rich girl attitude. I am also tired of Celyn's doormat role. Ano sya? Hanger on na lang? Wala ba syang mahanap na ibang kaibigan? Im starting to think this is a dumb story. Either that or the writers think we are dumb.
Sorry venting lang. I wake up early to watch it before going to work pero it seems like it's not worth it.
from cindym (excerpt)
I want development in Celyn and Liam's characters. I actually want to have the story revolve around them. For the past three months, the IKA story has revolved around Margaux and Ethan. I'm sick of it. There's supposed to be 4 leads in the IKA serye. But the writers are inept in writing for all the leads at the same time. Celyn and Liam are relegated to supporting characters with nothing to do but be sunod sunoran to Margaux and Ethan's whims. Even Celyn's studies and ambitions are ignored by the writers. This time, I want Margaux and Ethan to be relegated into the background and have the story focus on Celyn and Liam. Coming from the success of My Binondo Girl, Kim and Xian deserve better than be a second fiddle in a serye. Actually I'm starting to think the writers and ABS didn't have the guts to write a serye for Maja and Enchong alone so they attached Kim and Xian to attract viewers.
from coloredstraw:
hmmmppp!!! ako din yung patience ko unti nalang talaga. parang ang tagal ko inantay sila 9magkateleserye, tapos dito sa IKA, bakit ang unti ng scenes nila...
to tell you honestly, mas like ko pa ang MBG.(opinyon ko ito)
from Kitkat2 (excerpt)
I think all the KimXi fans all over the world have the same sentiments sa mga nangyayari sa IKA. This is just my personal opinion only if I may. Sana hindi na lang kasama ang KimXi sa teleserye na ito, bakit hindi na lang si Enchong and Maja itong teleserye na ito anyway naman most of the takes ay para sa kanilang 2, ang KimXi ay parang supporting lang. sunud sunuran lang kila Majong. Why don't they try na sa kanila na lang itong teleserye na ito at bigyan ng bagong teleserye ang KimXi, tingnan natin kung papatok ang tambalan ng MaJong. Napatunayan naman nila na ang KimXi ay #1 when it comes to teleserye, they can do it themselves whereas ... Dapat ba gabay sila KimXi sa mga ginagawa nila. I'm sick and tired na ang IKA kung may scene man sila wlang substance para lang mapakita sa atin na may scene ang KimXi.kung sinasabi ni JP na in 3 weeks pa ang KimXi, ay naku patapos na iyan
aaminin ko tumaas ang blood pressure at kilay ko after watching today's episode, isama pa yong preview ng tom's episode. Naman, feeling ko tuloy people behind IKA are just taking us for a ride. Either Im expecting too much or IKA heads are painfully slow in delivering what they promised.........Hayyyy erase erase ang negative vibes.
OMG !!!!! ang pasensiya ko
konting konti
na lang!!!!! ( angelica mode) LOL seriously kelan ang Celiam. pls. writers we've been soooooooooooooooooooooooooooooooooooooooooooooooooooooooooooo patient. 3 months na oh marthan parin?????????????? mahirap bang bigyan ang 4 MAIN LEADS ( as what was promise to viewers) ng equal story and airtime. nagawa naman sa MSKM book 1 but hindi magawa dito?
calling ms. gutsy do you think its time for writers to know what we feel? NKKLK na talaga! I swear christmas na. I just hope na pag Celiam na ang concentrate as in Celiam na ha, yung malalim ang magiging story nila. sana Marthan naman and nasa background para fair. LOL FIGHTING!!!!!
Natatamad na ko sa IKA, anu nangyayari?! sasabihin na naman nila atat lang tayo sa loveteam. Akala ko talaga dati parang Maging Sino Ka Man Book 1 ang dating ng teleseryeng toh wherein apat ang bida, in MSKM may sari-sariling story yung apat (Bea, JLC, Anne and Sam) pero magkakakonekta pa rin ang character/loveteam nila, eto wala nakadepende lang si Celyn at Liam sa iuusad ng story ni ethan at margaux. eh mabuti sana kung umuusad kaso paulit ulit lang
Gusto ko tuloy ang dialog ni Angelica sa One More Try: ang pasensya ko nauubos na! (not verbatim)
ang ayokong mangyari ay kapag bumaba ang rating nito dahil sa pagkaumay ng tao sa marthan love story na paulit-ulit nalang ay isisisi pa nila kay kim/ xian. dahil ang alam ng tao na kapag anjan si kim sya ang lead star..at kimxi soap din ito. mukhang tama nga kayo, magandang support nga ang kimxi.. kim chiu ba naman at samahan mo pa ng xian na talaga namang hot ngayon. bukod sa maraming manunuod, marami din silang kikitain sa dami ng advertisement dahil sa kimxi..o diba kumita na, napasikat pa yung dalawa... sumikat nga ba ang lt nila? parang di pa rin naman.. pasensya na sa mga fans nung dalawa.. magaling sila pareho pero parang walang chemistry. 3 months nang love story nila pero walang ingay. ni hindi nga mag-trending kahit philippines man lang.waley impact ang lt.
From maevel2002 (excerpt)
From what I know, this soap was intended for Andi Eigenmann and Jessie Mendiola with Enchong but for some reason they gave it to Kim and Maja. Isn't it that they were supposed to be topbilling with Judy Ann Santos, what happened
Sa trulili lang the greatest virtue which is Patience has fell thin on me. I'm not using my TFC na to watch IKA coz of these latest development. I just upgraded to premium subscription eh hindi naman pala sulit kasi nakikiupdate lang ako online #sayangpera. We gave them a chance several weeks ago na sana mag turn around only to be given another U-turn balik sa MarThan
I rush home from work everyday just to watch this show and this is the best you could do? where is this story going? c'mon!!! maybe we'd just better stop watching... what do you think, guys? sorry just venting
.

We still
have a number more in our thread but the above I hope shall suffice to show Kim and Xian fan sentiments.
From Mrs. Woods - 12-21
Last night's episode was really a bummer for Celyn and Liam. I think what's more frustrating especially for twitter followers is that the staff would plug an episode using CeLiam scenes and then that scene would run for a few seconds and not even a minute long.



-o0o-