Too often we underestimate the power of a touch, a smile, a kind word, a listening ear, an honest compliment, or the smallest act of caring, all of which have the potential to turn a life around.
Leo Buscaglia
There is no more looking back. Everything is All Systems Go for a friendship that has evolved, minus labels and minus scores. Smiles are now more the norm than the exception and depth is such that Xian can now read Kim's thoughts with Kim being more aware of his moods and his silence and his need to be by himself at odd times. So where are Kim and Xian now? They are in a happy place and happier when together.
CTO - Kim and Xian at D'Buzz - 10-07-12. The smiles have it!
CTO - Souvenir Shot with IKA directors Jojo Saguin, Don Cuaresma and Majong after IKA promo show at Trinoma, Sunday, 10-07-12.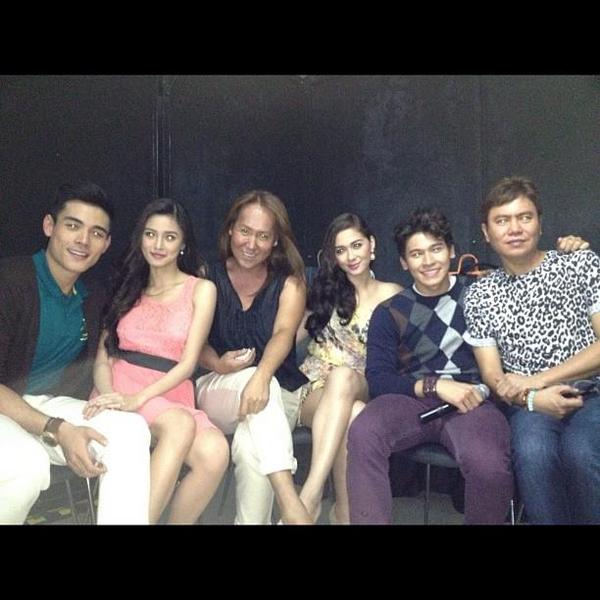 Hands have become proprietarial, territorial. Kim looking as if she's in a photo studio of old; her right hand over Xian's lap with her left hand over her right in a studied pose that speaks volumes; this, after declaring to the press that she will be keeping her personal lovelife at bay to concentrate on work. Could she have put her hands on her own lap? It would have been more convenient if she did since she is leaning sideways to her left; that she chose to put them on Xian's lap is what D'Buzz Toni Gonzaga said earlier in their interview, "Action speaks louder than words."
http://www.youmaker.com/video/svb5-fbe0d92bc13444608a585f08c797fb52.html
CTO - D'Buzz interview 10-07-12
There is a world of difference between the Kim and Xian then and the Kim and Xian now. Then, there was no such a thing as Kim and Xian. There was only Kim or Xian. In their January 8, 2012 Buzz interview at the Grand Two-Week Finale Presentation of My Binondo Girl at the SkyDome, SM North Edsa, Xian expressed the wish to see more of Kim even after My Binondo Girl. "Sana magkita pa rin kami", says Xian. We all know now that he got his wish. Had I known then what I know now, that the two even bonded more after My Binondo Girl, I would not have felt sad hearing the plaintive note in Xian's wish.
CTO - D'Buzz Interview - 01-08-12
Wishes do come true; Xian is blessed. He got his wish and had all sorts of dates with Kim from the time My Binondo Girl ended until todate, all of them chaperoned except for one itty bitty Brian McKnight Concert at the Araneta last March.
CTO - Here, there, everywhere by The Beatles
In the nine months after the last interview to the next, the question has remained the same: "What is the real score between Kim and Xian. There is some progress, they now say, or Xian particularly says, there should be no labels; another phrase Xian has used is: "Nothing can define it"; said twice with conviction at the Balitang Interview with Henni Espinosa, May 26, 2012.
They did not deny the relationship, they just did not want it tagged, named. They're one in saying that they are happy, enjoying their days and are not into rushing things. What exactly does this mean? I just have to refer to Toni Gonzaga's statement of October 7, 2012 Buzz Interview of the two: "Just read between the lines."
CTO - "Getting to know you, getting to know all about you!"
In the meanwhile, the relatives who allowed themselves to be interviewed (D'Buzz, 10-07-12) are articulating the words Kim and/or Xian are holding back.
From Xian's own "compound", his cousins have this to say. Charm Uy says, Xian is more jolly now and says more meaningful words about everything; what these words are, we can only speculate.
Another cousin, CJ Uy, observes that Xian is "texting while smiling" and concluded "he (meaning Xian) is obviously in love". CJ actually said the magic word. He also said that Xian sends flowers to Kim everyday. Confirmed.
A third one, Patricia Cruz, ventures to say that they all know Xian has a love life as his visits to their Compound is reduced by at least half where he used to spend his downtime with them. Less visits mean active love life. In the eyes of his cousins, Xian is in love and has a lovelife and they hope to meet with Kim (the love one) soon. They were all eagerly awaiting the airing of Ina, Kapatid, Anak which as I write this has already aired its pilot episode last night, October 08, 2012.
Kim's aunt, her Tita Josephine Chiu says, "Nakita namin si Kim ngayon, masaya, palaging kilig (did she actually say this?) loosely translated, "we see a happy Kim now; always giddy".
CTO - All in the Chiu Family. Kim and Xian with Kim's Lola and Tita Josephine.
Tita Josephine had more things to say of Xian. She said she met Xian when he came along with Kim to her Lola's place after Kim and Xian did Halad Cebu together last June. She was so impressed when Xian did the extra mile of speaking to each of the relatives that were present , more towards "getting to know" each one. That takes a lot of courage for a young man to do that and I must say a lot of love for Kim. Tita Josephine says they all approve of Xian for Kim and that "he has everything"; perhaps everything they could ask for in form of traits in a man for Kim.
The relatives from both sides including Ate Lakam, Kim's big sister who plays Mom to Kim in so many ways and Xian's Mom Mary Anne have only good things to say of one and the other.
Kim and Xian are exceedingly blessed. Time spent in getting to know one another has paid off. Kim and Xian who are also really serious with their craft have laid a good foundation of special friendship under the umbrella of doting parents, sisters and extended families. The road to a good prospective relationship is paved and smooth. God is good!
Kim and Xian are only 22 and 23, respectively, and though both can be so childlike, there is this maturity and seriousness at which they approach matters of the heart.
CTO - Kim and Xian in a comfy pose.
Both shy, retiring and unassuming, they treat the love that they have for each other, it seems, as something that should last and endure; love to them is not ephemeral or momentary; but something to cherish forever.
Kim says she does not treat love as a plaything, that can be here today and gone tomorrow. She is not a player; that would just be a waste of time according to Kim. This was when she was egged by friends to try another boyfriend in place of the old one.
Xian too says that he loves things that last; this is why he says he loves books (the written word), music as they go on forever.
You seem like a pretty romantic guy. How do you court a girl you like?
http://www.insidepinoyshowbiz.ph/story/the-senti-side-of-xian-lim
"
I am an old-fashioned guy. I give flowers. I don't want a relationship
na mabilisan lang.
If I want someone,
dapat
for good. It [is the same] with whatever I do:
gusto ko
forever,
ayoko ng
temporary. I don't like temporary things, [this] is why I like reading books. Same thing with music. They stay with you forever. "
CTO - My Love for you by Johnny Mathis
In the world where they are in, where love is taken lightly; where chaperones are from a Jurassic age, and boldness instead of shyness rules, especially when the man and woman are as goodlooking as Kim and Xian; it is so heartening to know that Kim and Xian are there holding the fort; their hearts and heads in the right place; their priorities in order.
What a grace from God for two people of such disparate backgrounds growing up to espouse the same persuasion; same beliefs. Kim and Xian, both shy, introverted and quiet; thrown into the performing arts; forced to shed their innate shyness to shine and rise and reach the stars

.
Kim and Xian's stars collided and this amazing, incomparable (using Xian's terms) chemistry between them exploded and the showbiz landscape shook at its core while commercial establishments took notice of this rising star, Xian Lim, who rolled with an avalanche of talents that still have to peak . His calendar is full; singing, hosting, acting, dancing, etc. He also fills the event arenas to the rafters and the establishments recognizing this audience-magnet pull, have Xian criss-cross Luzon, Visayas, Mindanao to guest their shows.
Kim in the meanwhile survived a Geraldless tandem and how. Where it used to be Kimerald now it is KimXi. The KimXi is riding the wave, soon to crest with another movie after their individual, The Healing and The Reunion.
There is no certainty that they will be a love team again after Ina ,Kapatid, Anak and their untitled movie which they have started to shoot today. Kim is one actress who can be paired with whomever ABS wishes her to be with.
Kim has proven this with My Binondo Girl with some help from her friend (s).
In showbusiness, one is only as good as one's last performance. In contrast to the essence of love, fame is ephemeral; it is here today, gone tomorrow and Kim and Xian are so aware of fame being flitting; an awareness which explains their strong focus towards their work.
Xian was not the intended endgame for My Binondo Girl. Two dissimilar events happened to the two other leading men which paved the way for Xian to come in as Andy to Kim's Jade which gave rise to their incredible tandem. Xian calls it destiny; I call it God's gift to two people who so deserve it. A gift of love. God is so good!
Interfacing closely, Kim and Xian at times rub each other the wrong way; revealing more personality traits which pose challenges to the other. Kim opens up on Xian's moods and his being "kind of sensitive" where he goes to a corner and perhaps sulk. Xian, ever the gentleman, did not reveal on National TV what caused his "retreat".
CTO - Xian destressing with his paints...his metime.
Creative personalities like Xian (and Kim as well) need their "me time" and spending time alone is their way of recharging their creative juices; if this is so, then Kim should leave Xian be; unless of course if Kim is the source of his "hurt". This is where the comfort food which Xian mentioned at D'Buzz or whatnot comes in handy.
CTO - Comfort food or one's head in Kim's warm embrace; here Xian is home. His face has this serenity and contentment seldom seen in public. Home is where the heart is...
Xian is very good at telling the world or maybe Kim what he expects from people or Kim through his tweets and Instagram. This mode of communication has really helped Kim as well in opening up more of herself. This is one influence that is unmistakably Xian.
So liberating for Kim whose privacy walls are as thick as Fort Knox. Now her walls are thinner and more transparent and in one post she made some bold declarations so unlike of Kim in the past. To paraphrase, she says, one must not be too mindful of what others might think of what one does. It is one's life and one should live it the way one wishes to. A streak of independence is showing through.
It is hard for Kim who has only started to discover herself and to love herself to do it all by herself. She needs somebody; not just anybody. This must be someone who really cares for her; who only wants the best for her, in short somebody who loves her truly but first Kim must recognize this need for that someone in her life and accept this need before the winds of change can seriously blow.
CTO - Xian Lim, "the wind beneath Kim Chiu's wings - her pakpak"
At age 22, Kim has found an anchor in Xian, whose strength lies in doing what his heart dictates and not to be marching to someone else's drum as he says and to be consistent at it; having people like him for who and what he is, warts and all. Kim is seeking this guide as a ship seeks the harbor lights for it not to run aground in the shallow waters or hit the rocks that abound --her refuge and shelter from the storm.
http://blog.globe.com.ph/2012/10/xian-lim-welcome-to-my-world/
CTO - Kim tapping Xian's shoulder over a gaffe getting him to laugh out loud.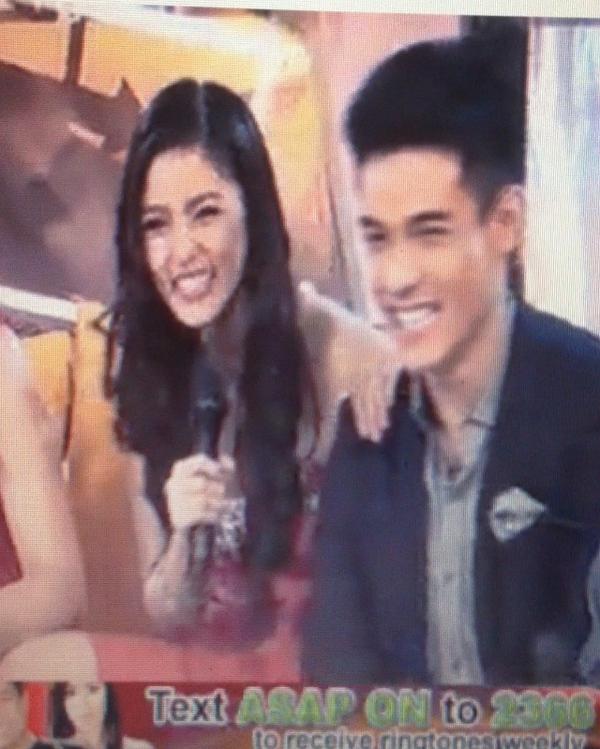 In Kim, Xian has found his happiness and inspiration. He has said this aloud to Kris A. when he filled her blanks this way: When I am with Kim.."I feel happy and inspired". Her positive and cheerful spirit and Kim's sweetness infect Xian's own, keeping him lighthearted and happy. As Kim says, "We're happy, happy, happy being together".
CTO Happiness personified...Kim and Xian.
There is the blossoming of Kim that is so marked in her spiels; her voice is more controlled, her lungpower, the same. She has considerably gained confidence in speaking English; that she took conversational English is one, the other is in her practicing it often and it greatly helps that there is some broad shoulder she can lean on literally and figuratively in times of need . Following is an interview in the US which she passed with flying colors.
CTO - KimXi at Pacific Rim Interview at Carson, Ca.
Notice how beautiful Kim is without any makeup on, a natural beauty claimed by renowned Philippine fashion designer JC Buendia 's as his Sexiest of today's Female Celebrities
Kim and Xian, gorgeous looking couple, appear none the worse for wear from their 15-hour non-stop flight from Manila arriving the night before with one other interview (Balitang America) and outdoor benefit event the day after 11-26-12 . Ah, what love can do.
Individually, Kim and Xian have developed their skills in leaps and bounds. In a year Kim has emerged a beauty confident of her beauty (Bench Universe); equally self-assured at ASAP-- to a frequent viewer, one may trace the timeline when she stood tall and strong and breathe correctly resulting in an improved delivery of her ASAP spiels. I don't know if it's just my eyes but even her dance moves are more polished and enthralling; just don't let Kim go under the microscope for her love life; she will be like a butterfly transfixed by a pin, wriggling and squirming through it all.
In interviews, Kim devoid of a script and pushed against the wall to reveal things she is reluctant to reveal is a totally different persona from her showbiz one, reverting to the shy, timid, tense, finger-scratching Kimberly; this time though it was the finger of her special friend that she scratched according to the owner of this photo (hard to see but an eye-witness is hard to beat):
CTO -
captured moment ...
@XianLimm
di kumikibo nilalaro ni kimmy ang mga daliri.. :)
♥ thina ♥
In time, Kim would finally break out of her shy persona, Kim and Kimberly now integrating and finally emerge from her chrysalis, a woman in full bloom and accepting of her true feelings for a man who has always been open of his feelings for her. In time. In God's time.
To add to Kim's laurels if it could be said so,
JC Buendia, a noted Filipino designer has given Xian and ourselves, KimXis, something to really be proud of.
http://www.youmaker.com/video/svb5-21f5896eeeba4658b455547512bc1fc1.html.Bandila-10-09-2012-interview.html
To JC Buendia, Kim Chiu is his Sexiest Philippine female celebrity. Ikaw Na talk show host Boy Abunda for Bandila must have been surprised by his answer.
This year marks JC Buendia's 25th anniversary in fashion designing which he celebrated 9-11-12 with a 50-man c
ollection.
http://www.mb.com.ph/articles/373112/jc-buendia-s-silver-anniversary-fete
I thank Disco for catching this 10-09-12 show which has made us all proud of our ChinitaPrincess. JC Buendia chose Dawn Zulueta as his most beautiful female celebrity.
CTO - Kim at BenchUniverse Runway. Sexiest of Female Celebrities per JC Buendia, Filipino fashion designer. Proud of you Kimmy! Not surprised at all.
Xian, reeling from the rush of endorsements and commercial shows that flood his calendar; his growing sleep-debt and time constraints, has remained down-to-earth, humble and more appreciative of his fans, his endorsements and his colleagues, especially Kim. He has found his center and on stage, he is poised and confident and the fans who flock his shows multiply.
CTO - Xian on the brink of stardom - poised and confident.
Francis Libiran Show. October, 2012.
Manila Hotel.
CTO - IKA Promotional Tour at Trinoma 10-07-12. Place is packed.
CTO - Ina, Kapatid, Anak. So attention riveting; gripping. Can't miss a day!
At the recent IKA promotional tour at Trinoma, fans screamed for Xian more than any other in the group of four. Xian has arrived with a bang! Kim is equally happy for him as she said so in her birthday message to him; her happiness multiplied in Xian's happiness!
CTO - At Trinoma Singing "When you say nothing at all" - Kim and Xian.
Xian is this you? Teasing Kim or tickling her.
CTO -

The tickler and the tickled singing "When you say nothing at all." Xian has really loosened up around Kim. HAPPINESS!
Kim and Xian are busy taping Ina, Kapatid, Anak and shooting their promised movie. What a hectic schedule but who's complaining?
Kim a very giving co-actor; lets her co-actors shine; she never shows impatience or any untoward reaction when her co-actor takes more time than usual. Renz Fernandez, her co-star at Your Song Presents has the following to say of Kim.
Being the newbie on the set, Renz confessed the numerous times he forgot his lines, and it was mostly because he would be distracted by Kim's beauty.
"Mabait na babae ni
Kim.
Madalas ko ngang makalimutan 'yung mga linya ko dahil sobra niyang ganda. Na-
star struck
ako. Nag-
meet
kami sa
tent.
Ipinakilala kami ni Direk
Jerry (Sineneng).
Nakita ko 'yung mata niya. Sabi ko, 'Uy! Ang ganda naman nito!' Napaka-
talented.
Magaling na artista. Mabait."
But Renz admired how patient Kim was with him.
"Mapasensya rin kasi nga ang dami kong mali sa mga eksena namin. Pero
okay
lang sa kanya. Nakailang
take
kami,
seven
o
eight
yata kaya nakakahiya. 'Yun talaga ang maganda kay
Kim.
Tinext ko siya, nag-
sorry
ako sa mga eksena namin. Sabi ko tensyonado kasi ako. Nag-
promise
ako na
next time
aayusin ko. Sabi niya
okay
lang naman daw."
http://www.push.com.ph/features/3016/renz-fernandez-admits-he-gets-distracted-by-kim-chius-beauty/
April, 2011.
Renz, younger son of Lorna Tolentino, is now with another studio.
Kim perhaps is only looking back to the time when she was also a newbie and had to take pointers from the older ones. "Ang buhay ay weather-weather lang", says Kuya Kim Atienza. In Ina, Kapatid, Anak, Kim may be considered a newbie to the older generation.
Life is a continuous learning experience and Kim has imbibed her lessons well.
Xian has repeatedly mentioned that he tells Kim whether he was "nahihiya" or "kinakabahan" in his scenes at My Binondo Girl and now at Ina, Kapatid, Anak; and Kim eases him off his shyness and jitters by coaching him in her own way. Kim has also shared that she discusses their scenes with Xian and with the Director's help, they deliver.
CTO
Kim, serene and looking up amidst a battery of
photographers, writers and the nation's hottest heartthrob beside her, Xian Lim, for a pocket presscon that heralded the start of Ina, Kapatid Anak, October 8, 2012.
There is excitement and perhaps trepidation for this second series that will again pair her with Xian on primetime along with friends and noted actors Maja Salvador and Enchong and a host of veteran and accomplished actors supporting them; add to that the multi-awarded directors, Don Cuaresma and Jojo Saguin and a creative writer, Danica Domingo.
Ina, Kapatid, Anak
is
is directed by Don Cuaresma and Jojo Saguin of the fantasy drama,
100 Days to Heaven
and written by Danica Domingo of the critically acclaimed melodrama,
Tayong Dalawa
. The story conference was held in May 11, 2012 where it was officially
green-lit
for production.
[8]
Filming began in May 18.
[10]
[11]-Wikipedia. (snipped)
Excitement, since according to Kim she will play a character so unlike her real self--loud, assertive, ultra-ambitious Celine and of course, the second pairing with Xian and an expected altercation with supposed antagonist Maja. Trepidation as in any of Kim's soaps, she gets stricken with the jitters for audience reception but judging from the pilot episode already aired in the Philippines with the twitter world all abuzz in praise and anticipation for the next day's episode, everything is A-okay in the IKA world.
A unique mixture of drama and comedy made the first week episodes stand out from the rest of the previous or even from the ongoing TV series. The conflicting characters plus the A+ portrayal of the actors made the tv series above normal quality.
http://elysplanet.com/2012/09/24/ina-kapatid-anak-review/#comment-677083412
CTO Ina, Kapatid, Anak Pocket Presscon. 10-03-12.
I watched the pilot episode, so attention riveting and it is true you just don't want the episode to end. I am so taken by everyone, so hard to pick and choose as each one just delivered. I am just spoiled by it; the other shows really just pale in comparison. The surrogacy issues can be ticklish. I really bow to Mr. Ronaldo Valdez for his effortless handling of his role; Ms. Janice has a pump in her eyes, she just tears up on cue; everyone is acting without acting, I feel I am within the show itself; the script, direction and editing are really good. No clutter. I salute everyone; I have enough confidence in Kim, Xian, Maja and Enchong that the intensity of IKA would be sustained. IKA, for the win!
CTO Xian Lim at Trinoma, October 7, 2012. IKA promo tour.
Xian performing before Kimmy's image. It looks like an imaging of Xian's thoughts; what Xian has always said of Kimmy--"para malaman nya na nandito lang sya palagi sa isip ko". "So that she may know that she is always in my thoughts", Xian regarding her gifts to Kim.
The tie that binds this evolved friendship is the desire of one to make the other happy; make her feel special; this love, unconditional and consistent has turned around the heart of the other to open and begin anew and return this unconditional wish to do the same - make the other happy; make him feel special. Love begets love.
Over the course of six months while they were taping for the series, Kim said she has discovered a lot of interesting things about Xian. "These past few months, every day
kaming magkasama,
24 hours same day
hanggang bukas ganun kasama ko sila. Makikilala mo talaga yung isang tao. Si
Xian
nakilala ko din siya. Nung una nahihiya pa siya eh tapos nung matagal tagal na, nag-
open up
na siya
and
makuwento pala siya. Ngayon alam ko na an
g back story
niya, kaya siya ganyan. Si
Xian
sobrang nakakatawa, marami siyang
knock knock jokes.
Isa siyang
knock knock king.
Nung dati waley, ngayon havey na
. (laughs).
Masayang kasama si
Xian," she
added.
http://www.push.com.ph/features/4412/kim-chiu-says-she-is-open-to-doing-a-project-with-xian-lim-and-#comments
CTO - "Si Xian, masaya syang kasama." --Kim. D'Buzz Interview. 10-07-12.
Xian, you have succeeded in making Kim happy, making her feel special; you have helped turned her life around. Thank you, Xian. I know her happiness is your happiness. In distress, she turns to you and holds your hand.