Your time is limited, so don't waste it living someone else's life.
Don't be trapped by dogma - which is living with the results of other people's thinking.
Don't let the noise of others' opinions drown out your own inner voice.
And most important, have the courage to follow your heart and intuition.
Steve Jobs (CTO - Brainyquote.com)
American entrepreneur, marketer, and inventor, who was the co-founder, chairman, and CEO of Apple Inc. CTO
-

Wikipedia.
CTO
Xian Lim, looking confidently into the future; Kim Chiu, safely ensconced on his side; both enjoying the present moment in a backdrop of white, orange and blues which pretty much symbolize the values of the 3 years they have been together as a team up and as a team. White for goodness, orange for happiness, blue for trust and loyalty. Kim , serenely holding unto Xian in a pose that spells forever caught exposing what
used to be hidden, literally and figuratively. Kim, out of her chrysalis ,courtesy or with the help of a man who unexpectedly came into her life in God's "perfect time" as one loyal Twitter Kim and Xian admirer ,Pink Parasol , succinctly puts it, everything comes including change for the better "in God's perfect time".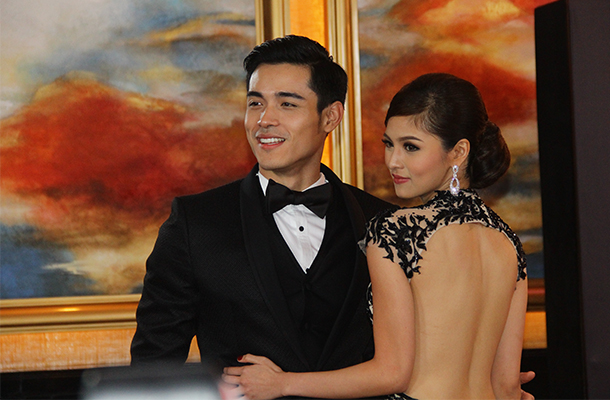 Photo credited to owner. Color symbols:: http://www.color-wheel-pro.com/color-meaning.html CTO No copyright infringement intended.
CTO www.goodreads.com No copyright infringement intended.
"The most beautiful people we have known are those who have known defeat, known suffering, known struggle, known loss, and have found their way out of the depths. These persons have an appreciation, a sensitivity, and an understanding of life that fills them with compassion, gentleness, and a deep loving concern. Beautiful people do not just happen."
―
Elisabeth Kübler-Ros
s
Deconstructing Xian Lim and the lady who understands him fully, Kim...
When Xian was Alex. Not anyone from his high school, his close friends or acquaintances ever envisioned Xian as an actor, more so as an international heartthrob welcomed by shrieks and screams whenever he appeared and performed; filling event venues to the rafters, blinded by flashing cameras and tugged and pulled once he bravely ventures into the crowd.
Year 2006. Still chubby, introverted and shy Alex (Xian) at 17 , playing Nikolai Rimsky-Korsakov's Flight of the Bumblebee in California with his Mommy Mary Anne as co-host to the program. CTO - sickwidit650. No copyright infringement intended; for entertainment only.
At 17 and in a very short greeting to the audience, Alex betrays the charm that the now adult Xian possesses in great measure and in 2014 , Alex now Xian, still shy, still introverted, still quiet, still retiring but definitely still maintaining the discipline, the respect for people that bespeaks the traditional family values he was raised on and which he strongly upholds.
Though raised by a single mom in America, he maintained a strong relationship with his Dad whose influence prompted his return to the Philippines in 2008 when he was 19 to finish his studies in his Dad's alma mater and pursue a career in basketball. Man proposes, God disposes.
Going with the flow, he rerouted from Basketball to showbusiness.
Having been listening to music all his life, his Mom being a piano teacher and lover of the arts, Xian, shifted to the leanings of his mother, basketball being a longer route than expected. Before leaving America, he got featured in a movie video of a music composed by his Mommy Mary Anne who also directed the video with the special participation of veteran Philippine actress Gloria Sevilla. Xian or Alex then also accompanied the group who sang the piece, Bituin ng Buhay Ko.
Still in California, Alex playing his Mommy Mary Anne's composition; notice the weight loss, slim and trim Xian, good looks enhanced.
CTO No copyright infringement intended. For entertainment only.
Year 2012. In Manila. Some piano playing on the side...Alex now Xian performing with the ABS-CBN Philharmonic Orchestra, Maestro Gerard Salonga (Berklee College of Music, Boston MA, USA; Summa Cum Laude) at the baton. CTO Fan cam. No copyright infringement intended. For entertainment only.
Anyone can just imagine the long hours Alex spent practising his classical pieces to be good enough to pass muster of one Gerard Salonga, a perfectionist along the lines of his sister, multi-awarded London's West End and Broadway performer, Lea Salonga.
Passion, dedication, discipline are qualities Alex was armed with when he left for Philippines to play basketball and later get into acting. Xian in his first full length movie, 2010 Cine Malaya Film Festival entry indie film titled Two Funerals that had him acting alongside veteran movie actress Tessie Tomas; megged by awardee for Best Director for this same movie, Gil Portes. Xian impressed his director.
CTO Xian in various crying scenes in Two Funerals
Direk Gil Portes had this to say of his star, Xian Lim--
"
After the screening, everyone was practically rooting for Lim a:s the next important star in the local biz. 'Naku, a star is born,' quipped veteran director Emmanuel H. Borlaza who predicted Xian as an awarded actor in the near future. 'Okay syang umarte' said Borlaza's fellow filmmaker Mel Chionglo. 'Magaling sya sa mga eksena namin,' observed talent manager, show producer and actor Francis O. Villacorta who has a cameo role in the road film. 'Grabe ang impact nya sa audience,' commented prize-winning production designer Manny Morfe. Lim just smiled as admirers and well-meaning people gave him praises. 'Nagpapasalamat po ako kay Direk Gil for the offer to do a film with him,' intimated Lim, a management student of the University of the East."--
http://www.abs-cbnnews.com/entertainment/07/18/10/xian-lim-revelation-two-funerals
2011 proved to be a good year for Xian. A turning point where he can peg his activities this way: Before or After My Binondo Girl. He landed a meaty role in the Teleserye Princess Kim Chiu's new series, My Binondo Girl more for his Chinito features. Son of a rich Chinese businessman , Richard Cepeda and newbie actress, Marina Benipayo; Xian as Andy Wu was third in line for the hand of Jade played by Kim, daughter of a rich Chinese restarateur, Papa Chen, now the ultra popular, Ser Chief of BCWMH, Richard Yap.
Xian expected his role as Andy to be shortlived as he was supposed to fall for Jade's alter ego, Yuan. His prolonged stay in the series was brought on by circumstances that rendered Matteo Guidicelli and Jolo Revilla, two senior actors out of the endgame for Jade.
Year was 2011. Xian as My Binondo Girl's Andy with his enviable 6'2" height, his chiseled features, his suits and their perfect fit, his hair, his luminous skin, his Chinito eyes, his
voice, his piano-playing;
and his long, lingering gazes towards Jade left the female viewers wondering, "Who is this vision of delight? Where has he been hiding all along".?
New fans surfaced; fans who were more Korean telenovela watchers made time for a Pinoy series. This Kim and Xian propelled show took off swiftly into the atmosphere like a shooting star leaving a trail of stardust that had the fans clamoring for more KimXi shows. . These were not regular Pinoyserye viewers, these were newly minted fans, thanks to My Binondo Girl. The KimXi sizzling chemistry brought a tsunami of fans that flooded their mall shows and appearances in talk shows, ASAP etc..
When did the female fans turn Jandy?
CTO Was it here ? The Accidental Kiss...
Or here, Ako'y sa yo Lamang sang and played on piano by Andy Wu to Jade at 2:46; the car scene in rainy Tagaytay...the lingering gaze - at 16:03.
CTO No copyright infingement intended; for entertainment only.
http://www.downvids.net/jandy-moments-oct-25-episode-69395.html
It was Jandy fascination that swept the Pinoy teleserye landscape that did not end there; it carried over into reality that led to the fanboying/fangirling over the growing closeness of the two co-stars, Kim and Xian and the birth of fangroups that call themselves KimXi, Katg KX Angels, Tropang KimUy, etc.
CTO - The laser gaze that melted a frozen heart... and a shoulder that healed a "broken wing"- a Jandy Carryover...this after MBG ended January, 2012.
CTO The Endgame...The "Accidental"Bridegroom - Xian Lim as Andy to Kim Chiu's Jade.
The End that only proved to be the "Start of Something New" for the two drove the fans into a frenzy of the when, where and wherefore of the Kim and Xian Love Saga which included among others ,too many to mention here, the Inspired Composition that broke the ice; the Twin life-sized Teddy Bears, Rose-filled Van rides, the "You" Christmas Serenade: the Love Rose Tree, Horse-back riding in Hawaii and the flower in her hair that signified taken; Subic jaunts, Star Magic Balls, U.S., Paris and London tours; Gymwork, Valentines Day in a Yatch, Banana Boat rides; Bungee Jumping, Skydiving, Ziplining, Dinners, Movies, Browsing at a fave bookstore; even Promise Rings on the side and Will you be my date? banners, Family Intermingling; Papa Time, Mommy time; House construction and finishing, Cruisings in a Two-Seater; and the nail that tightened the lid...Early morning Condolence Flight to Cebu.
This is where the Wheels of Fate, Destiny or God's graces falling to a most prepared and deserving one- Xian Lim. He came capable, he came suitable and he came to the right place at the right time --My Binondo Girl in God's perfect time!
Xian came quiet, awkward and told jokes no one understood, this from his MBG co-star, Kim. His presence did not create waves. nor did his acting until "their stars collided" in those scenes that defy definition and put the audience in awe of the two who only acted once or twice together before in short scenes are now heavily carrying the series by the strength of their undeniable and explosive chemistry and matching good looks.
Kim being bubbly and spirited; the "definition of sweet" according to Xian as her smile never left her even after more than 24 hours on the set , also never got tired of getting him out of himself, engaging him in long conversations, forcibly laughed at his jokes until she finally understood them; letting him feel comfortable among co-stars, staff and crew.
Kim's kindness gained her a friend in Xian who also found his creative muse in her. Inspired by her he gifted her a song, composed and sang by him. Xian who has never finished a single song since he tried his hand at it; finally succeeded in making one, the rest would not be far behind.. It was a song which expressed fidelity and love to the girl of his dreams; it was also just right for Andy, Xian's character, the Director of MBG included his original composition Ako'y Sayo Lamangt among the show's original sound tracks.
This was a song that changed the Kim and Xian world as they knew it. It left its muse in a place where she has never been, object of somebody's admiration expressed in a song inspired by one Kim Chiu; a song that spoke volumes of what the composer felt for her that must have made her look at Xian , this time ,in a totally different light.
Xian's acting too as Andy was so natural in his scenes with Kim as Jade; it appeared he was acting without really acting which created such strong audience impact; leaving the audience craving for more. Kim in her humility and kindness broke the barriers of Xian's being, releasing an avalanche of talent that up till now remains unplumbed as to the depth and breadth of it.
Singer, composer, lyricist, host, pianist, trombone player, now venturing into dance and painting -oil and watercolor - Xian Lim for you.
Time of the Big Reveal...the words uttered with such relief "finally, finally, meron ng nakakaintindi sa akin, (finally, finally, there is someone who really understands me now )Xian of Kim;
and, "he makes me laugh all the time"- Xian per Kim.
CTO Balitang America KimXi May, 2012 interview with Henni Espinosa
Understanding Xian, as Kim does...
The interaction of one who has already arrived in the business but is still hurting from a lost love with someone who is into psychology, has a listening ear, a shoulder to cry on and the desire to be a "pakpak" or her wing while her own broken one is healing proved to be a gesture not lost to the people around them.
Some people questioned Xian's intentions for going after Kim after MBG ended not believing that there are still good men in the planet and that one of them is Xian Lim.. Xian also does not have the 3rd world problems many have simply because he and his Mom and Grandma are "survivors of first world America; credit old-fashioned hard work and the talent of a mother who sold real estate and taught piano on the side.
It was a tearful Xian himself who said, 'Mom, we survived", referring to their stay in America. (KrisTV Dec.,2011 episode.)
His mother outfitted him with a condo and a vehicle to use in pursuit of his dream to become a Philippine actor. Xian, whom his Mom proudly calls a "dream of a son", is also Mommy Mary Anne's first priority . preferring to stay in their ancestral home to be near his son who was only 19 when he decided to go Philippines in what may be called reverse migration.
Looking at his gentle, simple, soft-spoken and loving Mommy Mary Anne and his Dad, a varsity basketball player in his prime who equally loves his son seeing how they bond in basketball and in Block screening of KimXi films, one can say, "the fruit cannot fall far from the tree. Xian who is described by very close friend Kim Chiu as a "gentleman, thoughtful, caring, funny, a hopeless romantic" cannot be anything but.
His seeming coldness is just his natural self seeking to burrow back into himself after a hard day's work to recharge, just as he goes into his music and favorite books, his painting to drive away the stresses that are not uncommon in his work which is exacerbated by his very shy, introverted nature.
Some people go clubbing and drinking to unwind, he as with Kim, stay home with a favorite musical instrument, movie or book or any activity that removes them from the madding crowd that can be maddening at times and have some "Me Time" to maintain equilibrium and deliver a good performance; a good show after.
Imagine if Kim and Xian do not have the passion, the dedication, the love for their work, they would disintegrate into little pieces of raw emotion, prickly and hard to work with given that their work can be so stressful in themselves. They both love their jobs; they love performing but that is not Kim nor Xian as Kim and Xian are in real life. That is their showbiz persona the people see.
Kim and Xian are leading real lives; not the lives of the characters they play. They are only marketers of their own products--the movies they film and the teleseryes they tape. They are people like you and me who get hurt when poked, who also want to rest when tired, who cannot forever be smiling nor forever be frowning; there are just those certain days that are like that and if we catch them on their "frowning time days", let us not take that personally. We did not cause them that but we can certainly aggravate them if one goes on a huff and retaliate and do that on social media yet.
Walang Personalan is the name of the game.
It is such a grave injustice towards the object of anyone's disaffection to go to the opposite side of the spectrum, meaning to go from being a fan who has hobnobbed with the stars on close encounters of the most kind and turn around and instigate others to bash these stars for some personal slight one suffered from these same stars. If slight is personal, then let it stay personal. There is certainly no pleasing everyone but with the amount of flak Kim and Xian are getting which are baseless and totally out of character reveals to anyone that this or these people doing what they do perhaps never had pure intentions coming into fanhood for Kim and Xian.
A priest once lectured us about intentions and how important it is to have pure ones coming into any activity be it religious or otherwise. He says and I paraphrase him, joining a group is likened to baking a cake.
If one has impure intentions coming into the group, it is as if one is putting kerosene as the first ingredient to the cake mix.
No matter how many eggs, butter, etc come after, the cake will always turn out bad because of the kerosene.
If this is how we approach our fangirling then we only have ourselves to blame if the cake we are baking in this case the relationship we wish to establish with the stars is already ruined per se or ruined before it even started. The stars are also discerning and because of their experience they can spot this malicious intent from a mile away
The stars have only the best that they can wish for their fans. They are integral to their being stars. They would not do anything within good reason to hurt their fans, it would be counterproductive if they do.
Kim is 2006 PBB Teen Edition Grand Prize Winner with 41.6% of the text votes during the finale and has survived the whole season without having been nominated for eviction, a record unmatched up till today. Kim is naturally friendly from having been raised one of five siblings who went from place to place together.She stayed in a single room with them among relatives in 6 or 7 places until they settled in Cebu, this family bonding experience though growing up quiet and shy gave her this foundation of being around varied personalities at close quarters that gave her a lot of confidence to meet new ones.
To Xian, Kim is a safe harbor, non-judgmental and seeing only the good in him in the way she constantly drew him out, teasing him no end; they developed this camaraderie on top of their admiration for one another. Simply put, they enjoy each other's company. There is Kim, completely understanding where Xian is coming from; with understanding, comes acceptance of Xian with all his flaws and imperfections; with acceptance comes, shall I say it aloud, L O V E? Not farfetched at all, given Kim's specs of one fair, tall, Chinito with a high bridged nose delivered in the presence of her PBB housemates, caught on cam and archived.
CTO Thanks to owner ForeverKimmy Xi. No copyright infringement intended; for entertainment only.
Here's Da One as ordered.
Ikaw or You
. Xian is a good mix of strong traditional values seen in his love of family, respect he gives elders, gentlemanliness and modern ones in his being techie and adept at social media .
However, due to a childhood deprived of strong attachments; bullied in turn for his weight, he is perceived by many to be socially awkward; cannot think on his feet for the right retort when teased; unable to strike a conversation unless spoken to first; apt to say the politically incorrect thing when caught off guard' Xian has the behavior of a geeky nerd belying his extreme good looks and enviable height, at times likened to a modern-day Adonis by those who have seen him.
Chubby as a child until aged 17, there is likelihood that Xian does not see himself as the handsome guy people tell him he is. His solitary world of books and music did not prepare him for the real world of intrigue and standards low enough to see one guilty until proven innocent if one makes a false, not necessarily , a wrong move. "
Hindi sya masyadong marunong makihalubilo, kasi silang dalawa lang ng nanay niya sa mundo nila,, so hindi sya marunong ( sa tao) Direk Joyce Bernal. by Reggie Bonoan Online Balita, July 26, 2011. Loosely translated to mean"He has not learned to mix with people, he and his Mom are the only ones in their own world, so that is why he has not learned how to be around people.", says Direk Joyce Bernal of Xian.
Believing in me, myself...Xian comes on strong...
A good reason perhaps why Xian would not respond to his bashers in the social media or what is written in the tabloids is because he has an understanding of how he is deeply misunderstood by these people and his confidence in those who profess loudly that they are for him and by him is high; his confidence in who he really is against the opinion of those who do not know the real Xian
or refuse to know
for reasons unknown is strong. His self-esteem is intact, his confidence in himself growing especially after he watched Chinese (Taiwan)American NBA L.A. Lakers player, Jeremy Lin's inspirational film.. Following is Xian's reaction addressed to Jeremy Lin.
Thank you Jeremy Lin for inspiring me big time! Your movie was amazing and the message you put out there are so meaningful. I can relate with so many rejections, so many things being taken away from me...also, that moment when you feel like you're in cloud 9 then all of a sudden everything just falls and smacks you in the face. When everything just feels like a complete mess and you're asking yourself where life is going to take you. I hope everyone can watch your Linsanity film so that all the underdogs, all the people being looked down on, and everyone who is striving for greatness will know that they a chance to be the best they can be. Just put in hard work, passion, motivation, love for the game and trust in God. Oh and i'll be working on my jump shots 24/7 now. 💪💪💪👍😄 If ever you get a chance to read this
@jlin7
, thanks for inspiring me to do better👍
Almost at the same time Xian quoted the following:: CTO From Xian's IG.
When no one else believed in me, I did.
Kim and Xian have friends who openly root for them on twitter and instagram i.e.- Mr. Rico B. Hizon, BBC Business News Anchor; Ms. Kris Aquino, Queen of All Media; Mr. and Mrs. Jopet and Stella Sy of Mint; Drs. Recasata of F&C are some of them; millions of fans worldwide, a number of them quite active in following them; trending them on twitter; friends in and out of the industry who are in the background but can be counted on and closely-knit families that have intermingled with each other in so many occasions and most of all a Father God whom they worship and who always hears the cries of His people--Kim and Xian are fortified.
Kim Chiu, Xian Lim only 24 and 25, respectively, have arrived at this place where expectations are high, more success deemed a given, this place at the top which can be lonely as they are easy prey for the boulders rolling their way from above and rocks pelted at them from below.
Kim and Xian, a tandem that has earned the admiration of many and the jaundiced eye of a few continue to be true to themselves--loving towards God, family, friends, fans and each other; fiercer now for the experience, stronger as they survive the rigors of night-turning-into-day work; competition, time constraints, unwarranted criticism, paparazzis, limits of physicality and endurance.
Kim and Xian, fans all over the world salute you for your commitment, your resolve to make your fans happy by your output--your film, your future shows; your fans, myself included salute you as we thank you for leading us, despite your youth, to trek the path of righteousness in worshiping a good and generous God whom you follow faithfully expressing this with your own generosity of spirit, in word and in deed.
In being true to yourself, you have succeeded in being loved for who you really are. There was one who has said, "I'd rather be disliked for who I am than be liked for who I am not" or to use stronger words, "I'd rather be hated for who I am than to be loved for who I am not." There is virtue to truth, it sets one free.
From Xian Lim's greatest supporter in the social media, comes this: CTO Kim Chiu
chinitaprincess Now
happy birthday @xianlimm!
thanks for always being there for me no matter what,,, like literal na no matter what time, what day, what occasion!!
thanks for all the jokes whenever i feel down and for making me smile and laugh all the time!!
really appreciate it!!😊😄continue to share your tons of talent and inspire other people!!!
always remember im always here for you!!!😉😁excited for ur milestone prod tom sa asap!!!
yahoo!!! hahaha😄👍 happy birthday xxxxxxxxxiiiiiiiiiiiiiii!!!!! 🎊🎊🎊😁😁😁 mwah!!!!!😘 @xianlimm
Xian's quick response to this effusive thanks and more from a very private Kim which in itself takes a lot out of Kim; to which Xian , in true gentleman fashion, after thanking Kim says"I am happy where she is happy. If this is not L.O.V.E., I wouldn't know what is.
There is good progress! In 2012, when Kim first joined Instagram, we never saw Xian in and if we did, he would be doing a wacky pose with some other. Her "thank yous" to Xian for monumental gifts as the Love Rose Tree were just that , "Thank You" without mentioning the giver. Though everyone knew who it was from, mystery shrouded Kim's answers to reporters' questions. Xian's photos were cropped out to Xian's dismay complaining to Kim on Twitter who "cattily" countered with, "crop me out too"; with a smiley to cushion the blow; at times photographer Xian is not credited to which Xian goes and complains loudly...so what is happening here? It is July, 2014 and there's Kim's effusive thanks best wishes and assurances and she even has a collage of their off-cam photos that picture them in their out of town jaunts and gym work too!
Could we still call it "crush na crush" after the Promise Rings? Would it not that be a huge misnomer? Oh well, I still go by, "Action speaks louder" and nothing spells louder than Kim's kilometric birthday greeting with words like "I will always be here for you", add to that her belief in Xian's tons of talent and his ability to inspire people add to that, photos galore.
Kim has declared her independence from hurt and pain since June, 2012 and now two years later she has taken courage to show her heart for all to see, on the date her man was born. What a tribute!
The perennial Giver (Xian) is now the Gift and also the Recipient of the Gift (of Recognition)! We now see Kim's profuse thanks and the person she is giving thanks to! This is the day the Lord has made, let us be glad and rejoice in it!
Words like "special", "precious" , "in time" flow from Xian's lips and his, "alam naman ni Kim na may gusto talaga ako sa kanya", "Kim knows I realy like her"; gentleman Xian remaining courteous, respectful. We will wait. Patience is a virtue. There is still the movie, Past Tense and a teleserye we all hope will materialize.
Two beautiful people, true to themselves, Kim and Xian! Two beautiful hearts, beating as one! CTO Kim and Xian.
CTO Endless Love by Lionel Ritchie and Diana Ross..No copyright infringement intended; for entertainment only.
CTO - AZ Lyrics - No copyright infringement intended. For entertainment only.
My love,
There's only you in my life
The only thing that's bright

My first love,
You're every breath that I take
You're every step I make

And I
(I-I-I-I-I)
I want to share
All my love with you
No one else will do...

And your eyes
Your eyes, your eyes
They tell me how much you care
Ooh yes, you will always be
My endless love

Two hearts,
Two hearts that beat as one
Our lives have just begun

Forever
(ohhhhhh)
I'll hold you close in my arms
I can't resist your charms

And love
Oh, love
I'll be a fool
For you,
I'm sure
You know I don't mind
Oh, you know I don't mind

'cause you,
You mean the world to me
Oh
I know
I know
I've found in you
My endless love

Oooh-woow
Boom, boom
Boom, boom, boom, boom, booom
Boom, boom, boom, boom, boom
My
Oooh, and love
Oh, love
I'll be that fool
For you,
I'm sure
You know I don't mind
Oh you know
I don't mind

And, yes
You'll be the only one
'cause no one can deny
This love I have inside
And I'll give it all to you
My love
My love, my love
My endless love
-o0o-
I most sincerely thank owners of pics, vids, lyrics, articles I have used in this blog. I have not interviewed Kim and Xian personally; whatever assumptions I make are purely my own humble opinion. Thanks for the read.